Okay my precious, darling readers, I'm baaack! How ever have you all survived without me? It's a damn miracle, really. I have received one too many emails, inquiring as to whether or not I am still alive, so I figured it's probably best if I cease in my procrastination and finally update this damn blog. The problem with going nearly four months (has it really been that long?) without any updates is that now I have a shit load of stuff to cover. Some seriously crazy shit has been happening in my life, but don't you worry my pretties! We'll get to that, all in good time! so I guess I'll just go through it all month by month, starting with late November where I left off, and in the future, I will try and get my lazy ass in gear and start posting a bit more regularly. Travis and I are still doing PORK and it's going rather swimmingly if I do say so myself. We have a different guest DJ every week. It's become very mixed as more and more people are figuring out that it's really just a crazy and debauched dance party, rather than the straight up sex party that it admittedly sounds like. Actually it is quite mixed with men and women of all ages coming. It's just a whole lot of boozy fun and whenever I'm there, I make sure everyone on the dance floor goes shirtless, ladies included! For those of you who are in Berlin on a Sunday night, come on down and get PORKED with me and all my crazed cohorts. It's a real riot and an experience that you won't soon forget! Late in November was the grand opening of Nathan's new gallery space and the adjoining "ArtBar". I showed up sashaying up the spiral staircase in the most ridiculous costume ever (baggy striped cords tucked into black combat boots, black leather jacket and my russian tankers cap.) I was the freak of the week! Once upstairs, I found artists, Trish, Salome, Henning von Berg & Jon Campbell sitting at a corner table drinking champagne. I joined them for a while and as I was chatting with the gorgeous, talented and by the way incredibly sweet Jon Campbell, I mentioned I would be having a birthday soon, he said he would be as well and as it turns out, we are born on the same day! December 2nd. We totally bonded over that shit, yeah bitches Tennessee Claflin, Jon Campbell & Britney Spears. Can you say triple threat? Hylleaux, watch the fuck out kids! We were supposed to go graffiti tagging as a birthday activity, but nothing ever materialized. Oh well there is always next year. Anyway, I got really wasted that night and everything was fine and dandy until I started yelling at all the fancy rich people that were there and was politely asked to leave, hahaha aint nuttin new. That shit happens to me at least once a week in Berlin, I've seriously lost count of all the places that I've been kicked out of. I mean really, is it my fault that these people can't recognize glamour when it stares them in the face? I mean shit. Let me see now I'm trying to remember what other fierceness occurred during the month of November. Ahh oh yeah, my dearest, darling friend Snaxine performed at this one club called Berlin Hiltrons or something. Anydamnway, I went there with Travistine & Marischka J and lemme letcha know, shit was cunty! we went downstairs to the VIP room and were hanging out drinking beer. One of the little omnipresent, teenage, special friends that seem to trail Travis wherever he goes almost passed the fuck out when he saw Peaches sitting on the couch chatting with some dude. I marched up to their table and promptly handed Peaches a flyer. She said, "Ahhh, so your the boys who are doing PORK?" I said "Sho nuff hon, you really should come on down and check it out." That was the first time I had ever met her actually, but Snax is friends with her and I guess they have performed together a few times before. Later on when Snax went on stage, Mario and I pressed our way up to the the front to take some pics and I have to say, I was really amazed with his performance. That was the first time I had seen one of his performances and he puts on a smashing live show. I agreed with Mario when he said he that Snax is one of the most talented people he knows. I also met Snax's friend, film director, Matt Mayfield, who was in town from New York to direct Snax's new music video (which I posted below) Later that night, I was sitting hanging out with Travis when we met this Italian kid, who offered me some Ketamine. I hadn't done K in a really long time, not since I lived in NYC, but I was sort of tantalized by the prospect, (the last time I took K, I was sitting with my girl mAdam on the corner steps of Twilo, and um, I saw myself from outside my own damn body! HI!) So I agreed and he motioned for me to follow him downstairs to the toilets. I immediately snapped my fingers, rolled my eyes, and said "girlfriend please, I can't be damn bothered with bathroom queues." I pointed to the heavy velvet curtains the lined the club walls and said, "lets just go behind there." So behind the curtain we went. I did one line and then another even though he said one was probably enough, I said "honey, this aint my first rodeo, mmmkay?" I know, I know, nobody can resist my charms. As we emerged from the curtain, Travis shot me a knowing glance and I demanded that he give Travis some as well. What? I become a bossy little bitch when I get drunk. I don't play. When Travis came out, I screamed "pay no attention to the man behind the curtain." No one did. Travis told me he had also done two lines and we sat there asking eachother every five minutes, "do you feel anything? I don't feel anything, these drugs are jank." Blah blah blah, then WHAM, all of a sudden time became meaningless and I couldn't walk or talk or anything, hahaha we must have looked like such freaks, after stumbling around the club like a couple special needs children in search of the shortbus. Finally, Mario came to Travis' rescue and they took a cab home. No such luck came my way. At least not until the end of the night when Snax found me sitting on the dance floor with my ear up against the loud speaker, staring off into a blissed out trance. Thats right, bitches! Hardcore. He pulled me up, got me some water, and he and his friend Matt took me back to Snax's place in a taxi. By the time we got there I was pretty much back to normal. The three of us had a little slumber party, where we watched Paris Is Burning and one of my all time new favs, that Snaxette introduced me to that night "Fortune and Mens Eyes" a real gem of a flick. It comes very highly recommended, that is if your, um, into the queer, prison genre (which I really must say that I am!) A few days later was Thanksgiving, which is usually a pretty uneventful holiday for me, which kinda sucks cuz I love eating Thanksgiving dinner. So this year we decided we were going to go all out and celebrate with a traditional American Thanksgiving dinner at Travis and Mario's place. I was already wasted when I arrived around 9pm. I had bought one of those little vodka bottles at the kiosk in the U-bahn station and people were staring, shaking their heads as I attempted to poor the vodka into my bottle of sprite. Anyhomelessantics, when I arrived to Travis and Mario's place in Moabit I found a room full of fierce faggots. Thomasina von Cokey, Michelle Shade, Tillove & Arvidette, Snaxine & the very sexy and talented French artiste/father of my children, Christophe Chemin. That reminds me actually, I have to go and drop those little brats off at the pool, I'll be right back. Ahhh thats much better. Soothing relief! So where was I? Oh yes, Mario made us the most fabulous Thanksgiving dinner with everything you could imagine, I made everyone talk about what they are thankful for. (It was a damn tradition in the Claflin house.) They all ignored me for the most part, so instead we talked about art, music, steroids and film not necessarily in that order, Christophe made fun of me for not knowing shit about film and then went on about what a horrible filmmaker one of my good friends is (who shall remain nameless, albeit celebrated) I shuddered as Christophe glared at me with his beautifully diabolical eyes, so deeply piercing, you'd swear he could see the damn future. I couldn't decide whether I was scared to death or in damn love! Snaxette tried to ruin my damn dinner by dumping about a gallon of gravy all over my plate, I was about to cut a bitch. (she'll get hers!) Thomasina sat at the table, smugly reveling in her aloof cokeyness, while Tilo and Arvid made out, (oh to be twenty again.) I'm thinking that we should make this Thanksgiving dinner an annual event. I reckon It'd be the hottest ticket in town! In addition to turkey, we serve up a healthy helping of eclectic realness.
Yeah Yeah Yeah's - Soft Shock (MP3)
Yeah Yeah Yeah's - Hysteric (MP3)
SNAX - Don't Wanna Get Over (Directed by Matt Mayfield)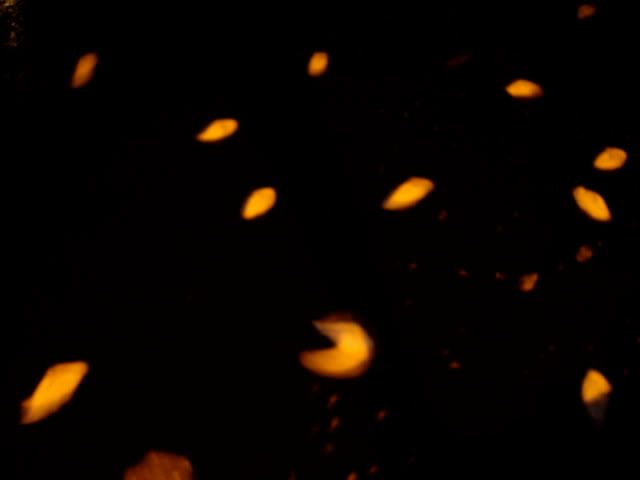 Sleeping Swans
Picasso Of The Streets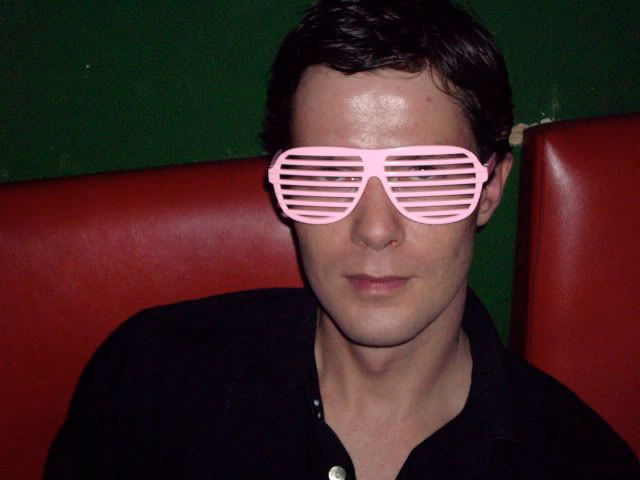 Pink Shade
Money Destroys Art
Wise Words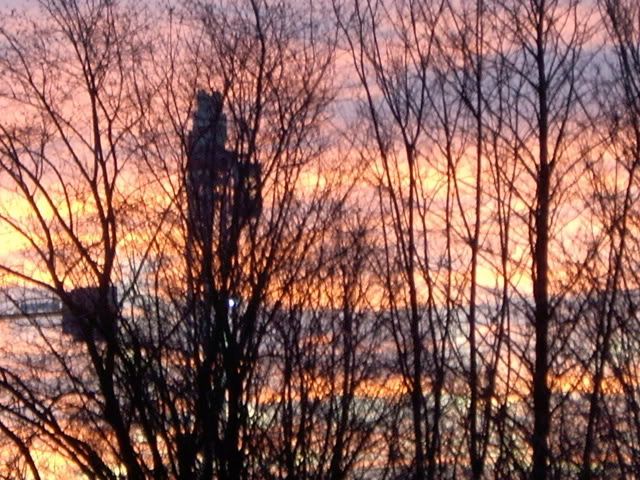 Bender Sunrise
Tim Leary Had It Wrong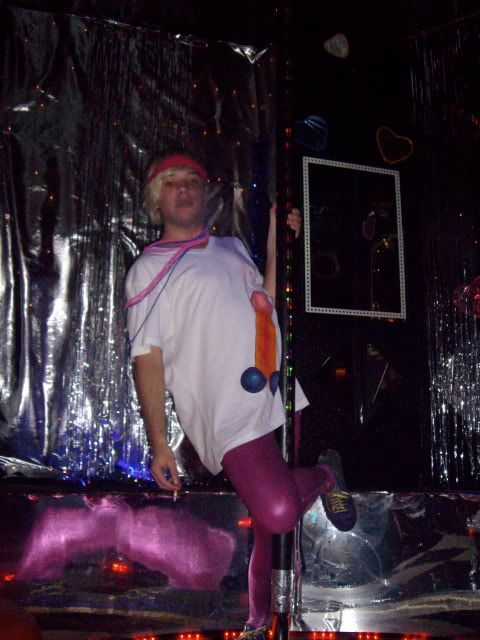 Ti-Lo-Ve Has It Right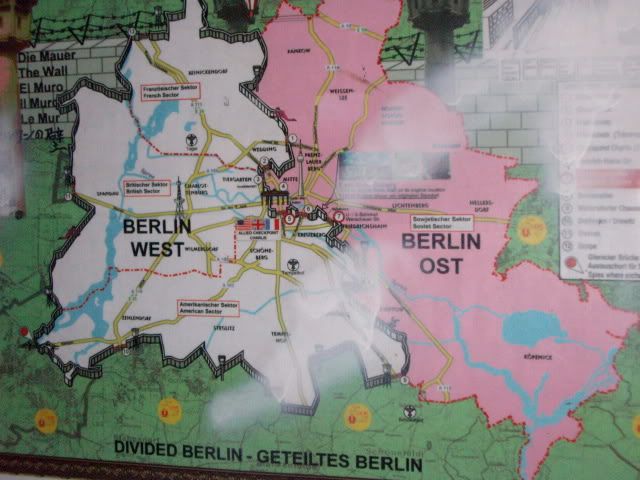 Pink Home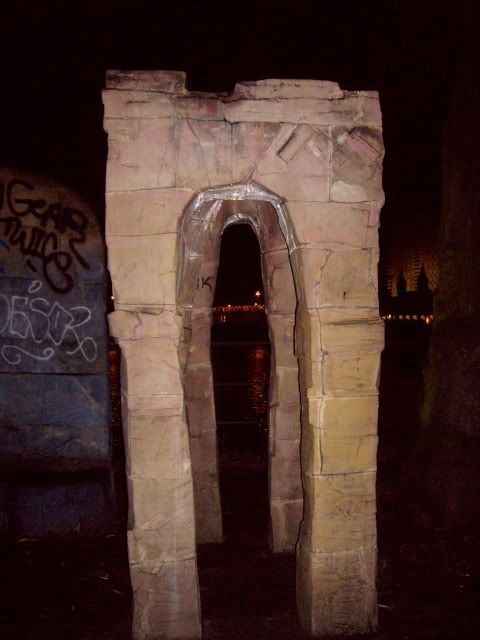 Riverside Relics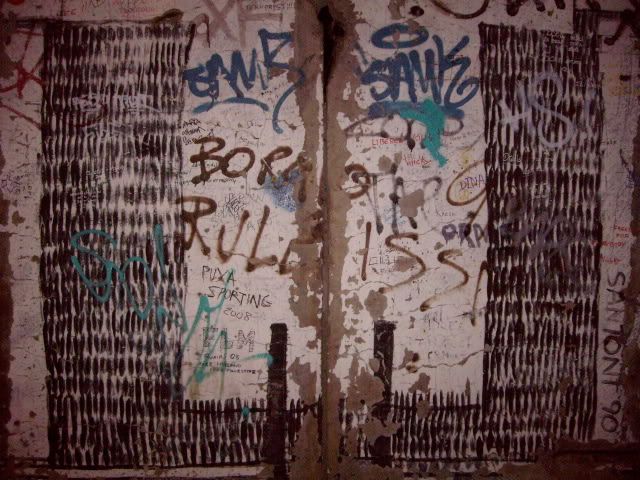 Twins Of Deception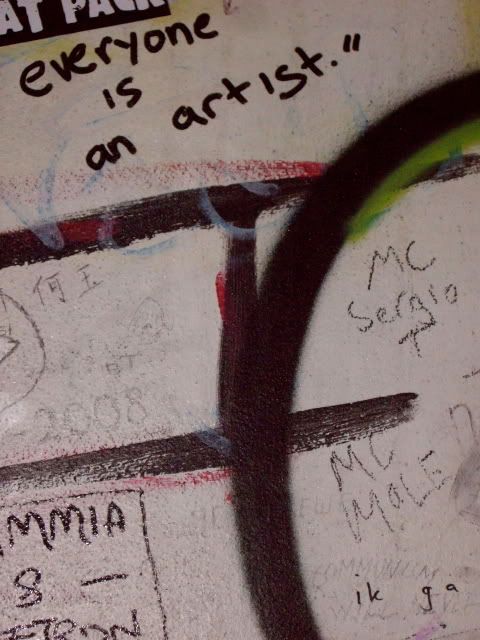 Everyone's An Artist,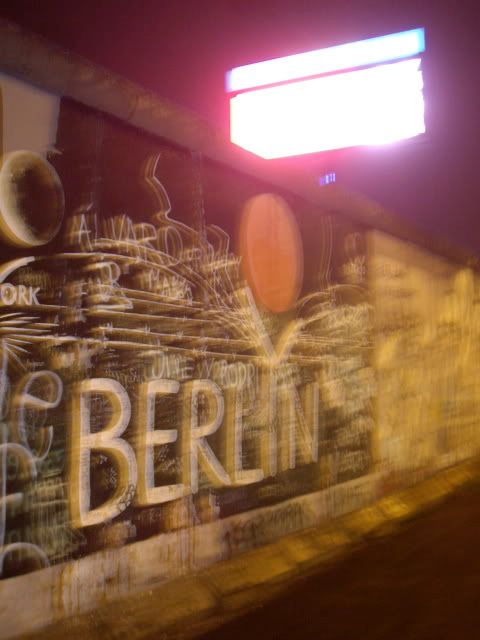 Especially In Berlin!
Sonic Youth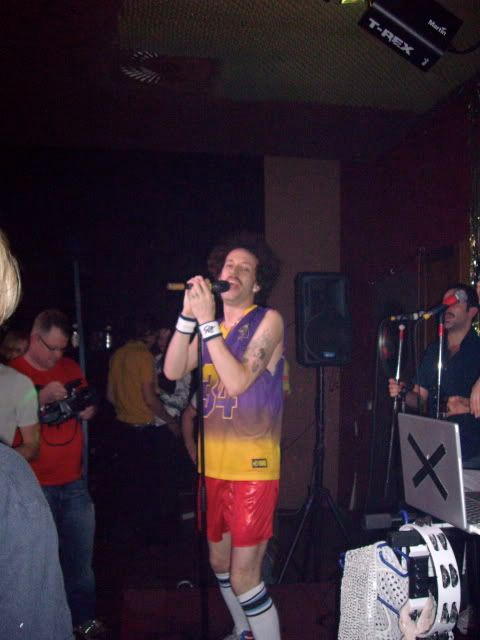 Snaxine Superstar
Neon Reflection
Tech Waste
No More Wars. No More Walls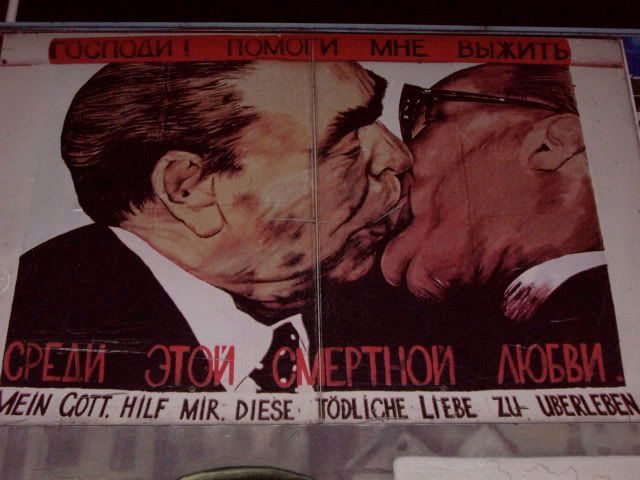 Make Love, Not War
What Do You Want To Be, When You Grow Up?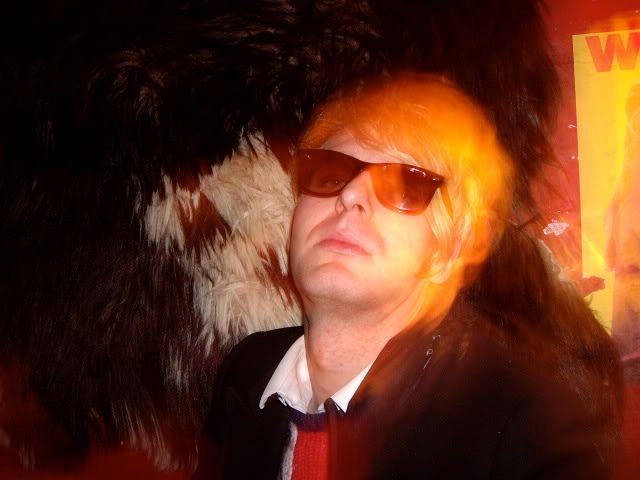 Thomasina Von Cokey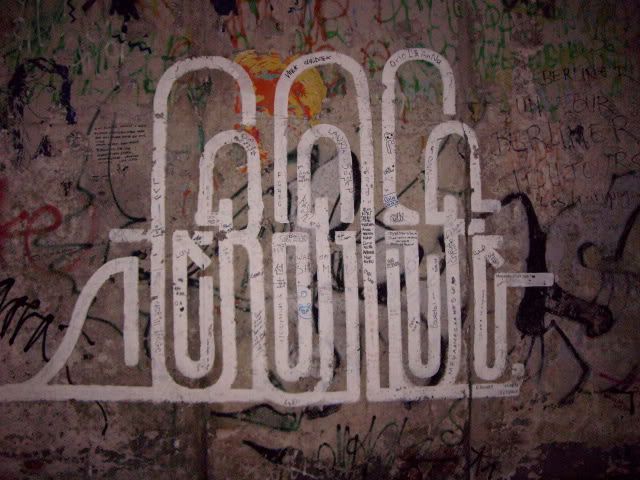 Writings On The Berlin Wall
Original Sin = Original, What The Fuck?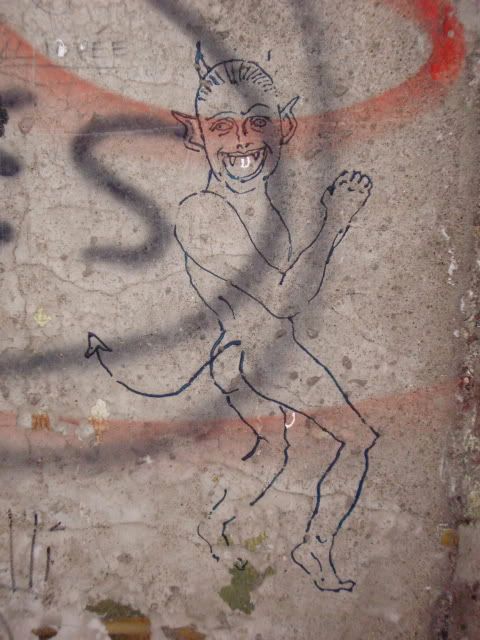 Mythological Mascot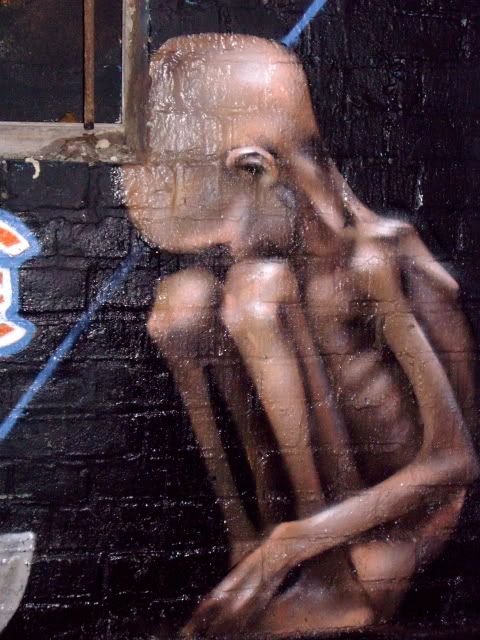 True Evil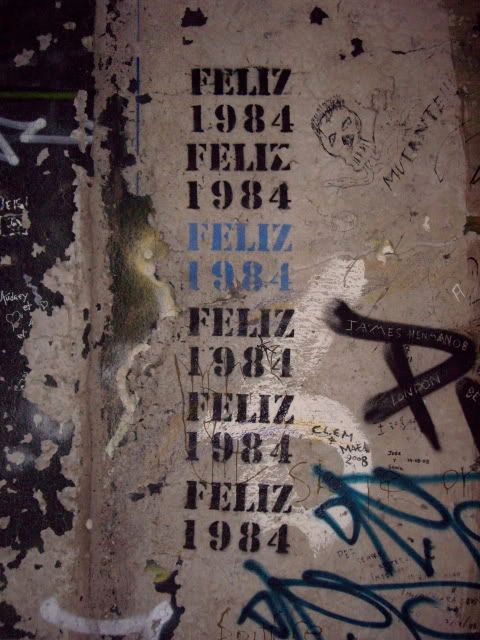 It Was A Good Year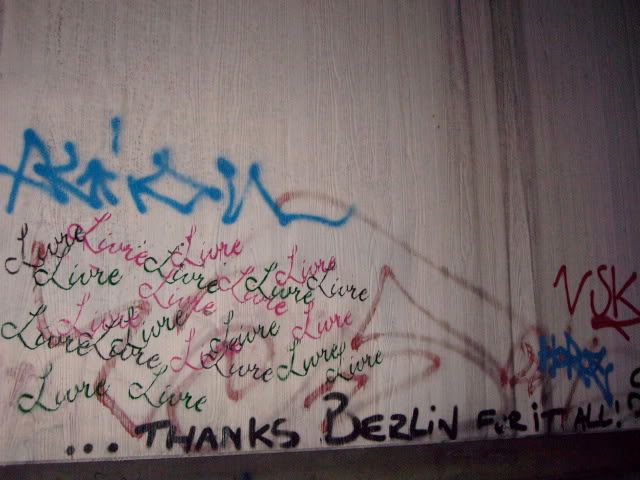 Thanks Berlin, For It All...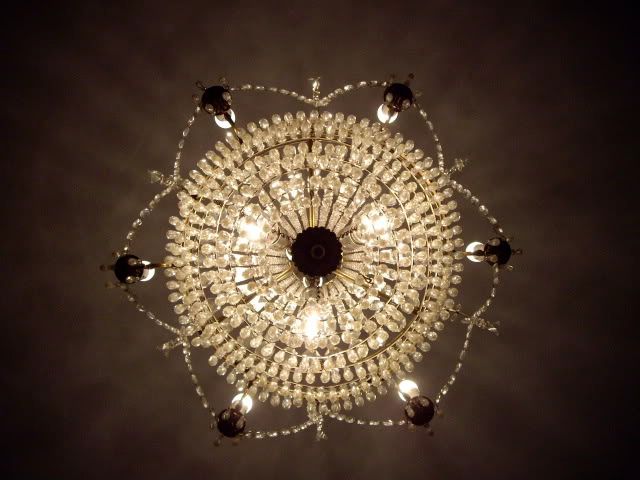 Loony Bin LIght
December 2nd was my birthday. I slept all day, and to be honest, I can't think of a better way to spend ones birthday. I'm twenty eight now and I feel old as fuck. The night before my birthday, Nathan called me at the stroke of midnight to wish me a happy birthday and told me that he was driving over to pick me up. He surprised me by picking up my three closest friends, Travis, Mario, and Michael and we went and got McDonalds takeout and then went to Art Bar and drank champagne and relished in life's little ironies. ;) (It sorta reminded me of when I lived in San Francisco and got a holiday job at Tsar Nicholai Caviar Company, answering the phone and taking holiday caviar orders from rich bitches all day long. The first week of the job I had no money at all, not even to eat. So I would take the bus to work every morning without eating breakfast and when I arrived to work starving, I'd be there sampling caviar all morning, hahaha.) My friends and I took turns reading poetry from one of the BLATT books, as we got more and more drunk. Nathan gave me, as a birthday gift, my favorite painting from Jeremiah Palecek's art show at STYX last September. It's a painting of a forest scene, with a man who has the head of Big Bird from Sesame Street, and there is also this weird purple pentagon thing off to the side, I couldn't believe he bought it for me. It was very generous of him. Before we knew it, we were all wasted and it was dawn. After a little cat nap, Nathan drove us all home. I would have to say that Decembers biggest and most significant event, was my moving into a new apartment the day after my birthday. I had been living on Kottbusser Damm near the Hermannplatz U-bahn station in the Neuköln district of Berlin, for the previous nine months, with a straight guy named Jan. At first things were great living there. I had a big spacious, sunny room on the top floor of the building and Jan stayed in the smaller side room, but after a couple months Jan was understandably eager to have more space, so he reduced my rent and I moved into the smaller room, which was frankly not much bigger than a closet. I didn't really mind all that much about the lack of space because I was getting quite a good deal on rent. However after living there for several months, other things began to wear on me. The apartment was filthy dirty and when I say dirty, I mean like health hazard dirty. I stopped using the kitchen all together because the moldy dishes would just pile up for weeks on end, with flies everywhere. I certainly wasn't about to clean up after him. So I would just retreat into my little closet whenever I was at home. I rarely ever saw Jan. I will never forget one of the few times that he did clean the pile of dishes. I went to take a bath and the entire tub was filled with dirty dishes that he was trying to soak so that he could scrape all the moldy crap off of them easier. I've never seen anything like it in my life. It was so foul. Now, I am by no means claiming to be a model example for clean living, but at a certain point, I have to draw the line. I, like most single bachelors throw my clothes on the floor and leave empty beer bottles in my room etc. But the way my old roommate lived was truly vomit inducing. Every once in a while I would have to go in there because I kept some of my clothes in one of his wardrobes and the smell was just overpowering. On his bed, where he slept every night, there was literally a nest of cigarette butts, empty beer and vodka bottles, take out bags, plates with moldy food and other such garbage. It was very um, different, to say the very least. But it's his apartment and he can live however he wishes. That was my attitude. Then came the straw that broke the camels back. One day, I went to do some laundry and when I opened the door to the washing machine, a stench so rancid and overpowering enveloped the entire room, that I almost passed the fuck out. Homeboy had left his wet laundry in the machine for what must have been more than a week! There was mold everywhere inside that machine. I put it through another wash cycle and then hung it for him. Then, I washed my own clothes and hung them out to dry. I noticed that they smelled a little funky, but I thought whatever, it will just go away in time, um, it didn't. My friends started to tell me that I reeked of mold. Like not just one friend, several of them. It was so embarrassing and I was so annoyed at that point, I said to myself, I have got to get the hell out of this dump. So I put an ad in my GR profile that I was looking for a room to rent. A couple of weeks later I got a response from a guy named Ralf who had just rented a flat in Kotbusser Tor in Kreuzberg. We met up for a drink and then went over to see the apartment. Ralf is originally from Munich, but had just moved back to Germany from London where he had just graduated in fashion design, from Central Saint Martins School of Design. We hit it off immediately and I decided to move into the apartment. Since there was still one more room available in the flat, I told Ralf about Pietro, the artist that I had met in Florence in October and I suggested that he should rent the other room to him. He agreed and we all moved in together the first week of December. I was so happy to be changing my living situation that it didn't really occur to me that the coal heating situation in our new apartment might take some serious getting used to. It was just a nice change to be living with other gay guys that were my own age. It was more of a family type situation than the previous flat, because we all got along and we would go out to art openings and parties together and I introduced them both to all my friends in Berlin. One night in the middle of December the three of us ventured down to Neuköln for a group show and performance at Rise Gallery. When we arrived, I ran into several people that I knew. For one the illustrious, mask clad, glamour artiste/PORK door man and dear friend of mine, Trish was there with celebrated artist friend, Salome. Sexy, artistic, multi-talents, Jon Campbell and Christophe Chemin were also in attendance. The show was pretty good for the most part, but I have to say that the most memorable part of the evening was standing on the table with Jon and Christophe, watching the performance of Jon (un autre corps) all I can say is that it involved a mirror, some bandaids and um, lots and lots of blood. It was definitely a sight to behold. Some of these Berlin artists are pretty fucking hardcore! Afterwards, being the broke down bitches that we are, Pietro, Ralf and I pressed it on over to the glamorous Ficken 3000 where the three of us got completely wasted with the owner Frank (my boss) for free. Frank is the man. He is definitely one of my favorite people in all of Berlin. A few nights later, I went to see one of my sistahs in crime, the one and only Snaxine. Homegirl played a gig at the old Hungarian embassy across from Alexanderplatz. It was very different from his last gig at NBI. It was very sultry and loungy, with Snax at the piano and for part of the performance, he gave up the mic to his fierce chanteuse partner, the awesome MIss Molly Nilsson. It was amazing. Snax is so incredibly talented. I am continually astounded with the talented fierceness that miss Snaxette brings to the table. Homegirl does not fuck around and Miss Molly Nilsson was pretty damn fierce in her own right. My little sister is named Molly too, so pretty much anyone with that name gets a gold star as far as I'm concerned, basically, I was a fan before she even went on stage.
PJ Harvey & John Parish - Black Hearted Love (MP3)
PJ Harvey - Teclo (MP3)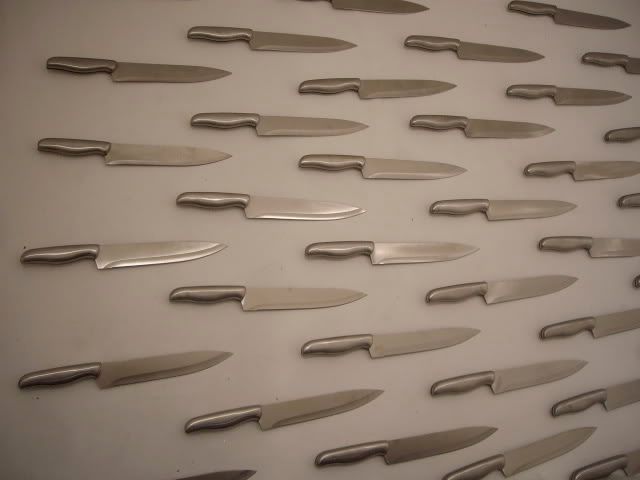 Knives Out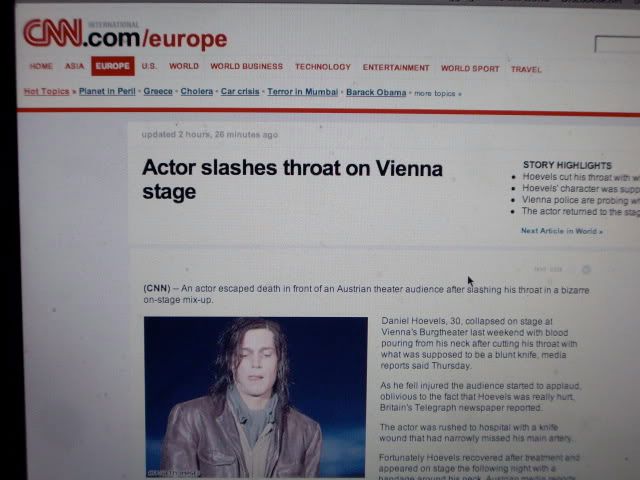 Yet Again, Austria Manages To Upstage Itself
No Stopping Us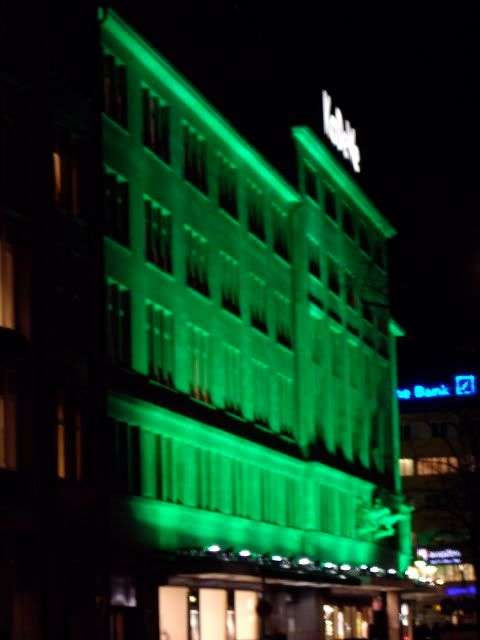 Green With Envy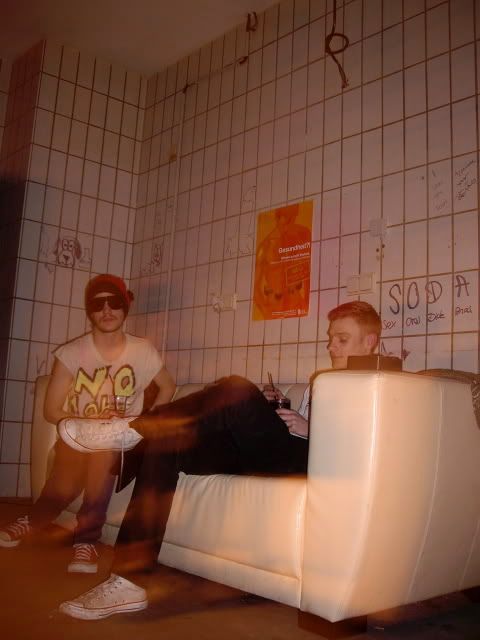 Hangin' Out @ Monsters
If Only We Could Attract This Calibre Of German Fierceness @ PORK
Pietro Needed A Muse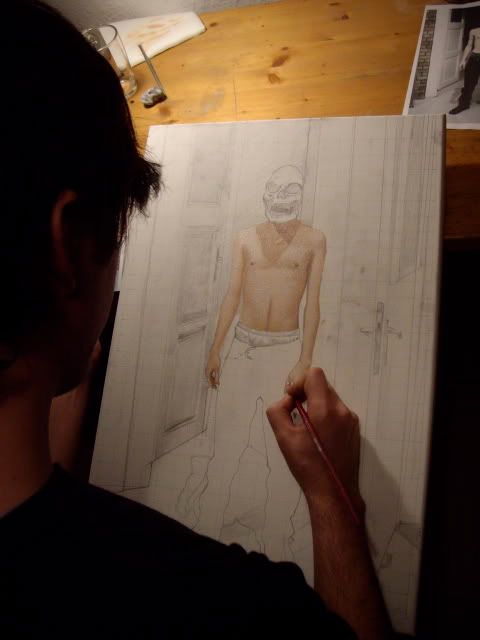 Surrounded By Talent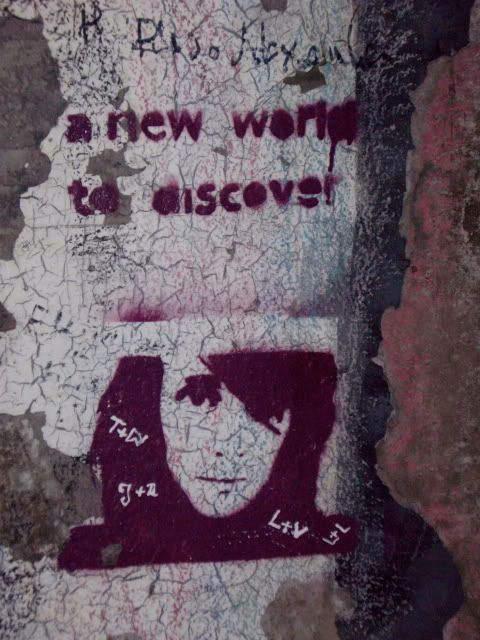 So Much More To Discover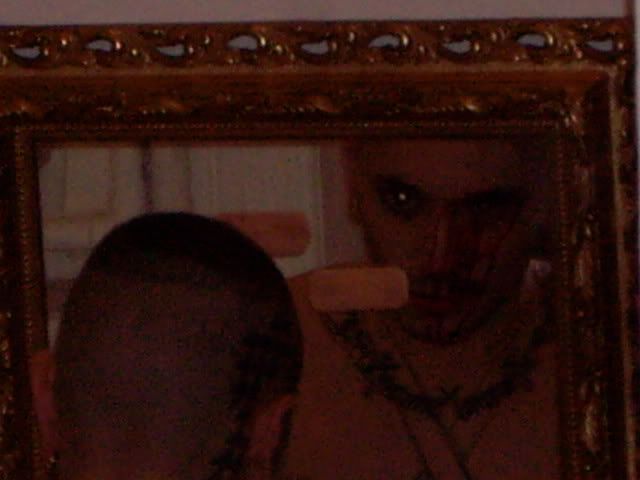 Introspection
Bloody Art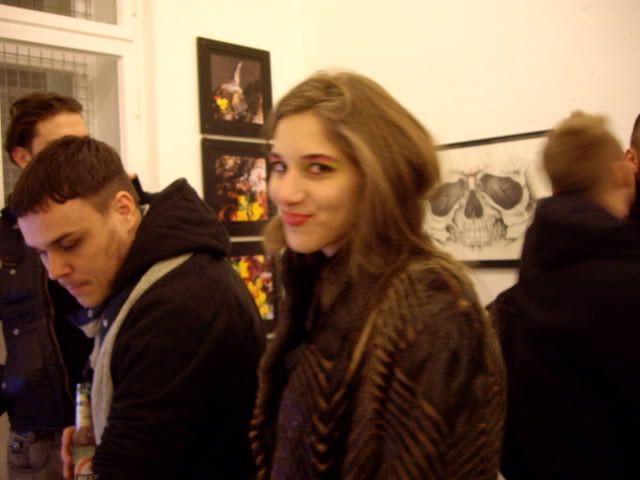 RISE Opening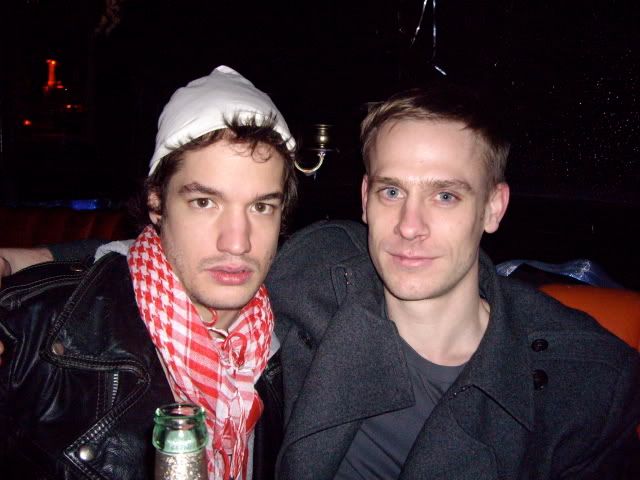 Tennessee & Ralf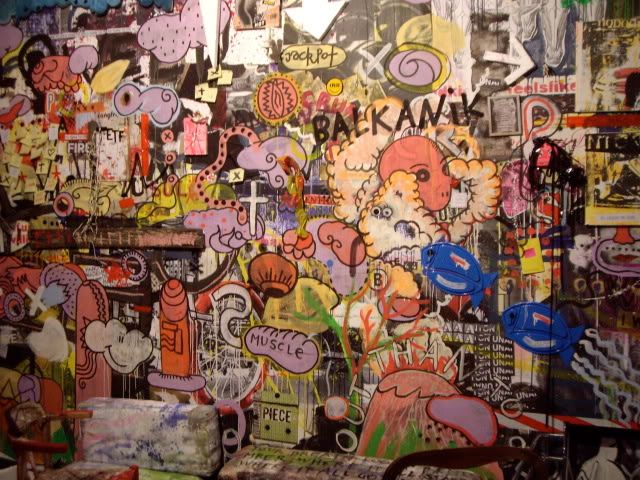 Animated Wall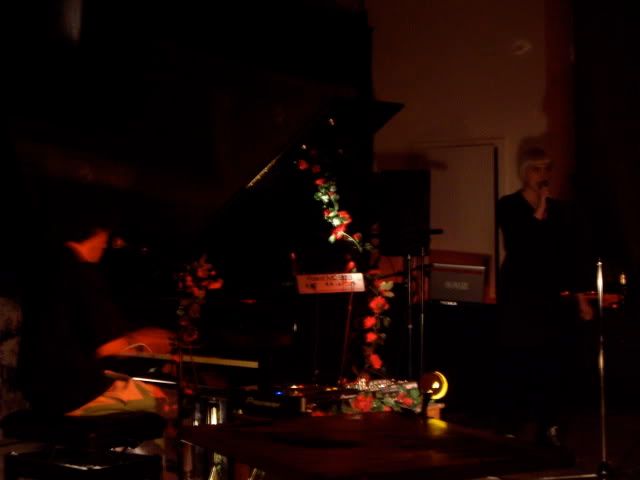 Snax & Molly
Digital Youthe
SHADES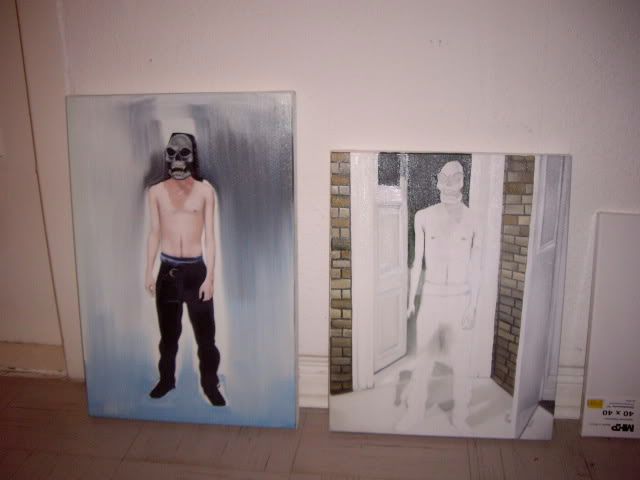 Pietro Studies Travis
Surprise, Surprise!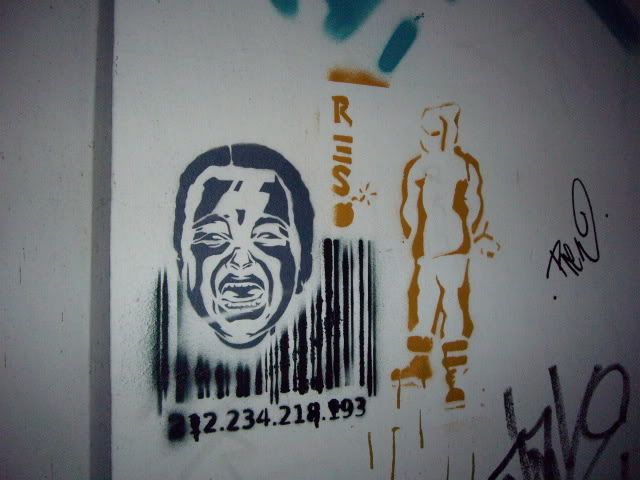 Screaming Beast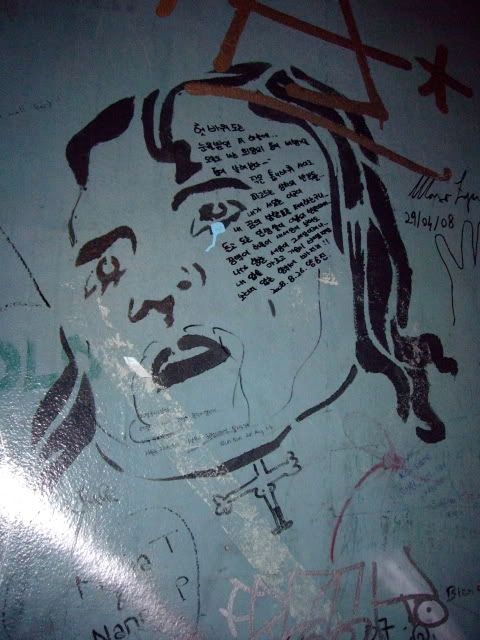 The World Autographed My Face
Christmas Decorations, Kreuzberg Style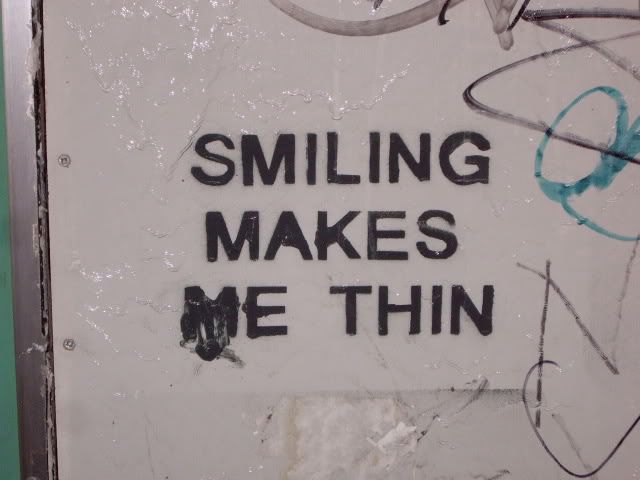 America Is Depressed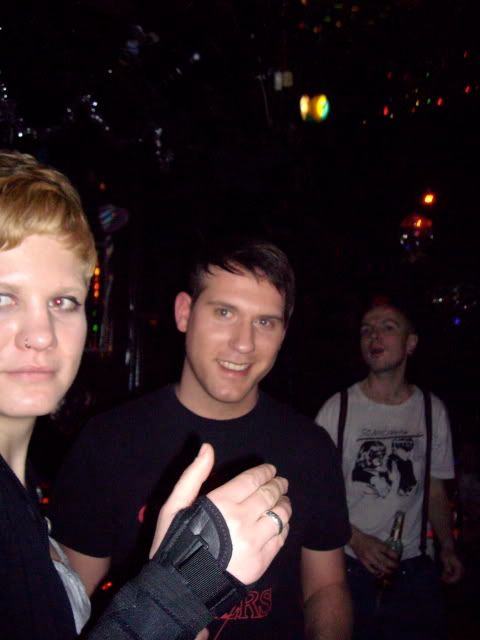 Gayface Is The New Punk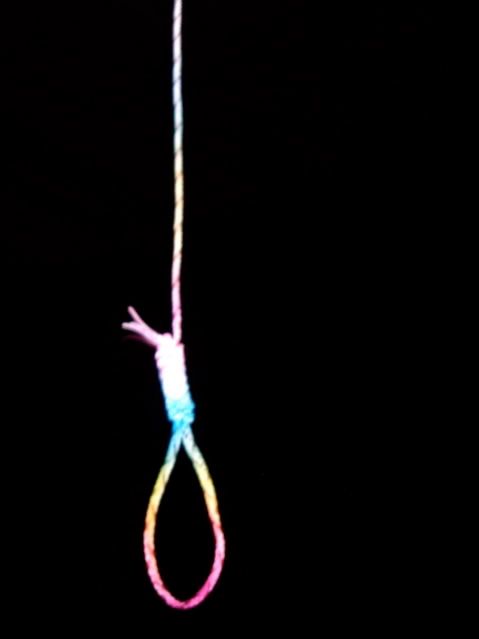 Rainbow Suicide
Throughout most of December, I was considering whether or not I should go back to Salt Lake, to attend my youngest sister Laura's wedding, or not. Her wedding date was scheduled for December 30th. Five days before Christmas, I still had not decided if I was going to go, or not. My mother said she would pay the flight for me, something that has almost never happened before. I also really wanted to go to New York to attend the Stephen Sprouse retrospective at Deitch Projects in January. I knew that if I passed on an opportunity to see that exhibition, it would be something that I would most definitely regret later. So I called my mom and told her I would come for the wedding and I arranged it so that on my return trip to Berlin, I would stop over in New York for five days, so that I could attend the opening party of Stephen's retrospective. I was nervous about going back to New York, mainly because that city carries with it a lot of memories of Stephen, that I wasn't sure if I was entirely ready to face yet. But I told myself that it has been nearly five years since he passed away and that it's about time that I should face up to it and move on with my life. So I arranged my flight so that I would stop in Paris on the way to America and New York on my way back to Berlin. I would leave Berlin on Christmas morning and spend about sixteen hours in Paris before boarding a direct flight from Paris to Salt Lake, early in the morning, on the day after Christmas. On Christmas Eve, Ralf had gone home to Munich, to be with his family for the holidays, so it was just me and Pietro in the apartment. We cooked dinner together and sat up drinking beer and talking. We really bonded that night and had a serious heart to heart. We were both very open with each other, sharing secrets and parts of our lives that both of us rarely ever talk about. In a way, it was very therapeutic, at least it was for me. We all have our faults, myself most certainly included, but Pietro is really such a sweet boy and I'm really glad that our paths crossed on that fateful October night in Florence. I woke up Christmas morning around 10 am and lugged all my bags over to the U-bahn at Kotbusser Tor. It was such a peaceful morning, bright, sunny and nearly desolate. Everyone had somewhere to be on Christmas morning, it seemed. Everyone except the lingering, junkie, straggler at the U-bahn entrance, who was attempting to sell me a brand new bicycle for twenty euros. Not a bad deal actually, as I thought about it, then I began to wonder who would be going without the new bike they asked Santa for. As the train pulled out of the station, the sun rays blinding me, suddenly I felt a sense of hesitation as if I were headed straight into the lions den. The notion, I would learn later, was almost prophetic. I dismissed it, trying to turn my thoughts elsewhere. Instead I thought about Paris. I hadn't been there since 2006 and I was really excited to go. I had arranged to stay with Andrew, one of my old Los Angeles buddies who is studying at the Sorbonne. It had been ages since I had seen him, so I was both nervous and excited. When we touched down in Paris, I was relieved to learn that both of my big bags were checked straight through to Salt Lake, so all I had to worry about was my little backpack and my laptop. I rode the train to Gar du Nord and rented a locker in the basement of the station. the only things that I kept with me were, sixty euros, my coat, camera and i-pod. It was already starting to get dark, so I decided to hold off on going to Andrews flat for a few hours and I just wandered around Paris taking pictures as fast as I could, before the darkness invaded the sky. I find Paris to be so inspiring. There is just something so special about Paris. I definitely want to spend a year or two living here at some point in my life. I rode the metro on the pink line towards Chatelet, and decided to get off at Pyramides, thinking that it sounded interesting. I asked someone on the street which way to the Seine. They were so friendly and told me exactly how to get there. So much for Parisians being rude. Who knows maybe it was just the mood Christmas brings? I walked for maybe five or ten minutes, until I reached this little park/gardens called the Tuileries. I stopped there and attempted to snap some shots of the Eiffel Tower, which was all lit up with purple lights that night. On the opposite end of the Tuileries gardens, there was the huge, I.M Pei designed, glass, Louvre Pyramid. Now, I knew where I was. I knew if I went there, I would be able to get my bearings and be able to navigate my way around central Paris, just from memory. As I walked toward the glass pyramid through the gardens, It occurred to me that this place was extremely cruisy. I spotted at least twenty men who were obviously there cruising. I laughed to myself thinking, how is it possible that in my first hour in Paris, I wander, unknowingly, directly into what seems to be the central gay cruising area of the city. As I approached the pyramid, I stopped to take some pictures and experiement a bit with the different settings on my camera (I have had the damn thing for coming on three years now and I still haven't mastered how to use it.) All of a sudden, I noticed a sexy, tall, swarthy, looking man eyeing me from afar. He kept following me around the grounds, as I photographed the Louvre from different angles. Every time I would glance over at him, he would grab at his crotch and lustfully stare at me. Hahaha, it was so damn obscene. I fucking loved it! I'd be lying if I said I wasn't sorta turned on by the situation. He was fucking hot. So I thought I'd tease him a little bit and I walked over to a part of the gardens where there is a sort of maze of tall hedges and we played cat and mouse for a little bit. After a while, it felt as if we were playing some sort of ridiculous, juvenile game, then I stopped and realized that that's exactly what we were doing. I laughed to myself and went over and sat down on one of the empty park benches. It wasn't long before he came over and sat down next to me. He looked to be in his late thirties, if I had to guess, he had a sort of weathered appearance. He definitely wasn't a rich man. Hell, let's face it, he was straight up rough trade. But sexy, masculine, Parisian, rough trade. He whispered something to me in french as he reached for my hand with his coarse, work worn, hand and gently lifted it to his lips to kiss. I was thought to myself, you've got to be kidding me. It was such a sweet gesture and so completely foreign to me. His name was Georges. He spoke to me softly in french with his, deep, sexy voice, caressing my hand gently as he led me through the labyrinth of manicured hedges to a stair well that led to what seemed like an old abandoned metro entrance, or perhaps some sort of underground storage area for the Tuilereies landscapers. He pulled me in close to him and kissed me hard and held me close to him, under a half struggle. I pulled away from him and stepped back, I wasn't sure if I was much into being arrested for a semi-public sexual encounter, in the center of Paris, on Christmas night. He pulled out his dick and started masterbating, as I stood there watching. After a minute, or so, he reached for my hand again and guided it to his erect penis. I noticed that his dick was nearly as rough as his calloused hands. At that point I wasn't so sure if I wanted our contact to get anymore intimate than it already had. Just then, I heard a noise and turned to see another man appraoching from the stairs. I quickly pulled my hand away as Georges stood there with his pants down. We were so busted. I laughed, as I walked away. As I approached the stairs, I turned to see Georges swat away the other mans hand, as he made an advance toward him. Georges hurriedly buckled his trousers and pursued me up the stairs and onto the street. He followed me around Paris for a good ten minutes, until finally, I sternly told him to leave me alone. There was still a slight hint of color in the sky and I wanted to take some pictures of the Seine and Notre Dame, before it got too dark. After I finished taking pictures at the river, I made my way east toward Le Marais (the gay area of Paris) I photographed a few churches along the way, as well as, one of my favorite modern art museums in the world, the Centre Pompidou. Once I reached the Marais, I ran into a group of the glamorous sisters of perpetual indulgence (gay nuns), on the street. I stopped and chatted with them for a bit and posed for a picture with them, before slinking into one of the districts many gay bars. I sat at the bar, had a few drinks and chatted with one of the bar tenders, who was American. He let me use his mobile phone to call Andrew. Andrew was having a little Christmas party at his flat, with his boyfriend and a small group of friends, from his school. By that time, it was about 8:00pm and I told Andrew, I was at a bar in Le Marais and would come over to his place around 10pm. For the next two hours, I went on a crazy bar crawl, with a couple of fabulous queens, that I met on the street that night. We really drunk and I was having such a good time, that I almost lost track of time. I said my goodbyes and jumped on the Metro to the Pyrenees station, where Andrews flat was located. When I arrived to his flat, there was about five people there hanging out, drinking wine and smoking weed. His friends seemed cool but it had been so long since I had seen Andrew that I was more focused on catching up with him and reminiscing about our crazy club kid days together in Hollywood. We called our friend Nina, whom I hadn't spoken to in years. It was really nice to hear her voice and it was such a nice night. Andrew looks as cute as he ever did and seems to be really happy in Paris. We went to bed around 1am because I had to be up by 6am for my flight. I was kicking myself the next morning, on the train to Charles de Gaule, for forgetting to take any pictures of my adorable friend Andrew. Oh well, he said he wants to come visit me in Berlin, so I'll have to remember to get some pictures of him next time I see him.
Ladyhawke - Paris Is Burning (Alex Gopher Remix)(MP3)
Friendly Fires - Paris (Aeroplane Remix)(MP3)
City Of Lavender & Light
Parisian Church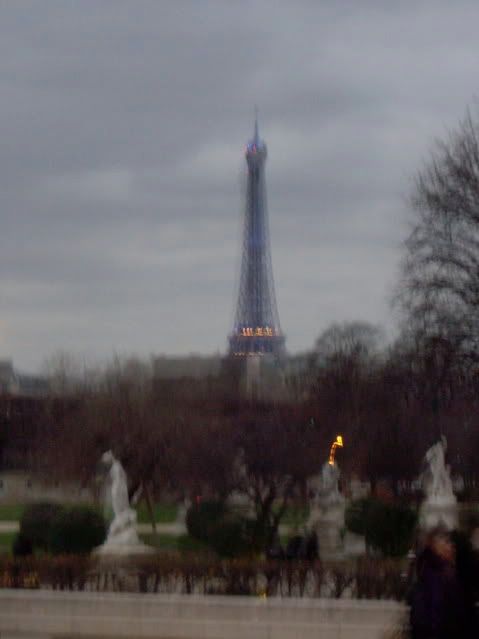 Eiffel Tower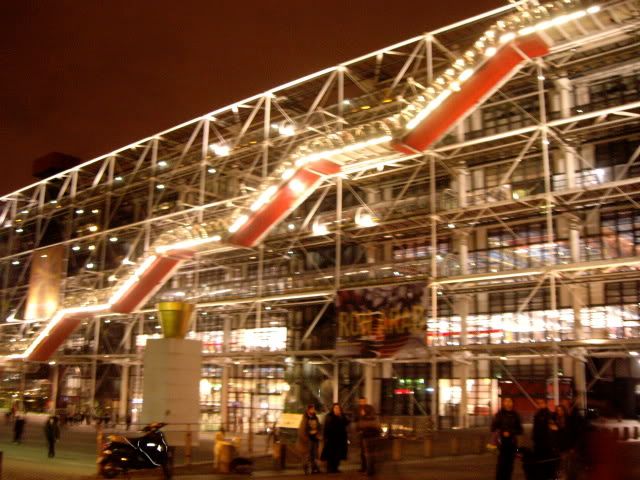 Centre Pompidou
Louvre Pyramid
Pompidou Installation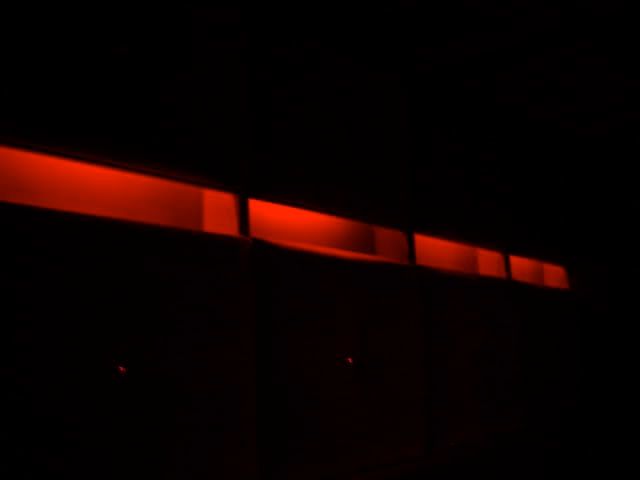 Red Light Bar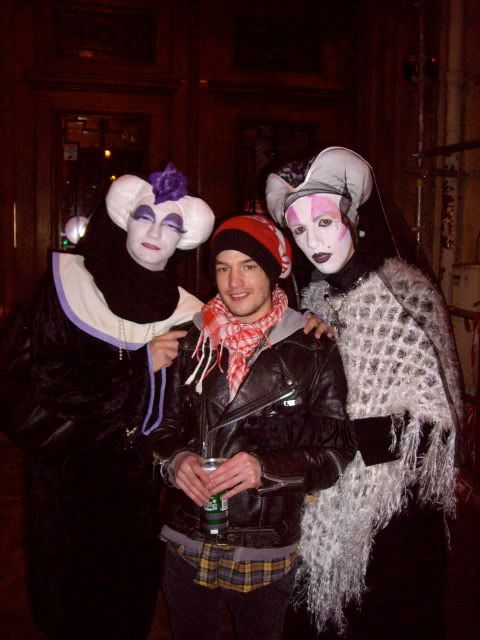 Tennessee & The Sisters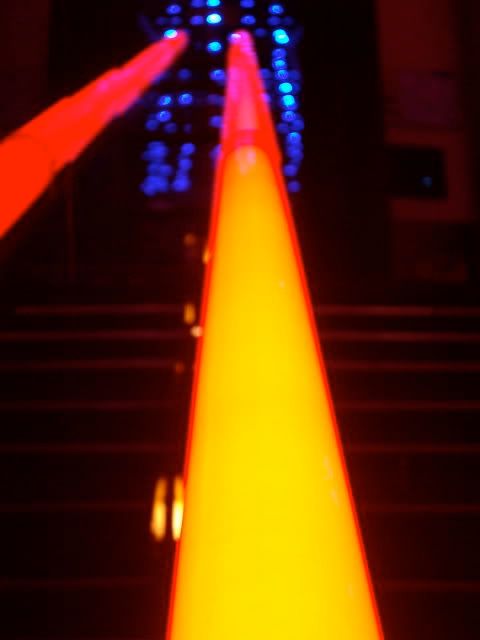 Hot, Hot, Heat!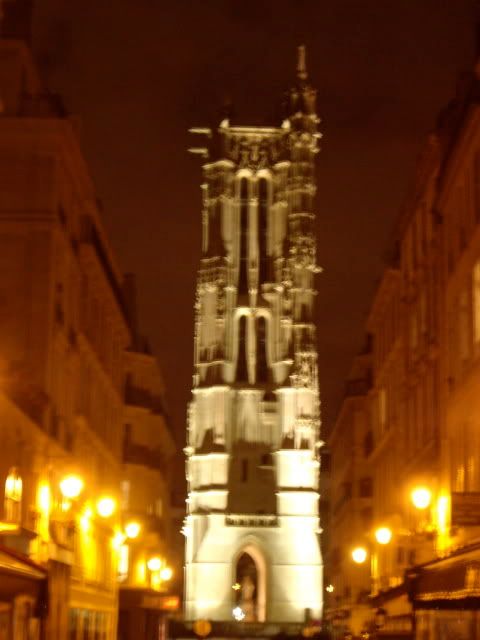 Church By Night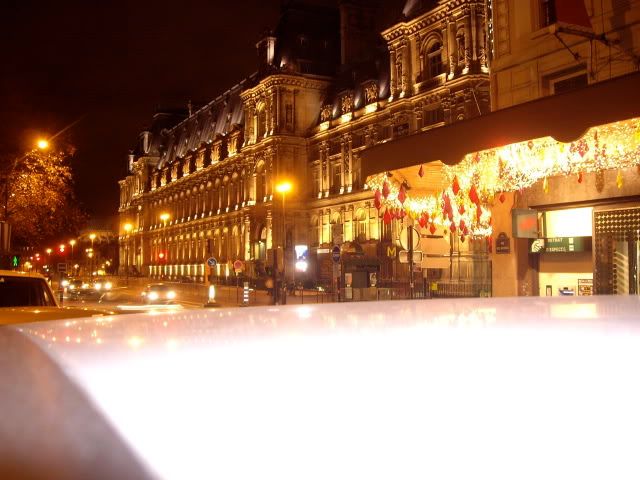 Car Tripod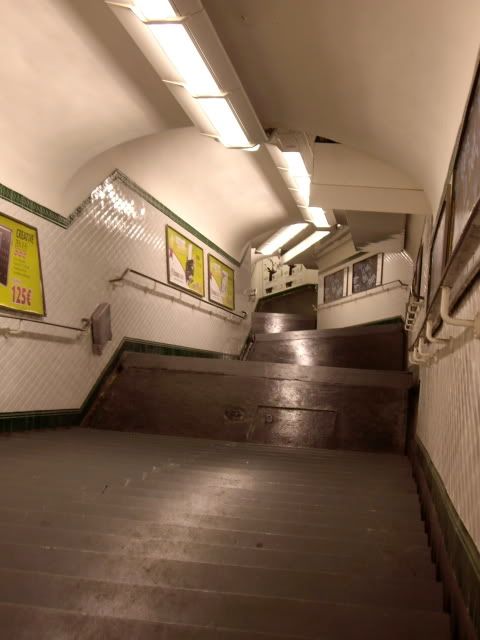 Handicap Accessible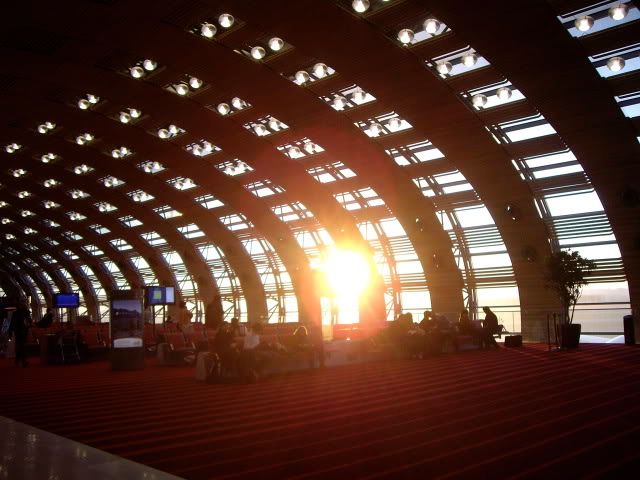 Terminal Sunrise
The flight from Paris to Salt Lake was fucking brutal. It was crowded and long as hell. I remember when I was younger, I used to love flying, I found it so thrilling to stare out the window at everything, trying to figure out where we were, from the geographical features below. Now, I'm so over it. Whenever I fly now, I just can't wait for it to be over, from the minute I arrive at the airport, until the second we land. Maybe it's just that it has become so tedious in this post 9-11 world, or perhaps, I'm just getting old. Either way, I can't be damn bothered. I need a fleet of private jets equipped with a masseur, a damn chef and plenty of booze;) Anydamnway, When I got to Salt Lake, as usual, I was bored out of my mind within about twenty minutes. It was nice to see my mom, dad, brother and sisters, but It seems as the years go on, we grow further and further apart from each other. most of my siblings are married now and have children and families of their own, so I think it must be quite difficult for them to relate to my relatively unconventional lifestyle. We still love each other, but there has most certainly developed between us, a rather pronounced distance. This is one of the reasons why, I was somewhat hesitant to come back for the wedding in the first place. I guess I feel a bit out of my element, surrounding myself with a crowd of people who's guiding force in life is a religion that I know all to well holds nothing but contempt and hostility for my lifestyle. All the same, I chose to put on a brave face and attend the wedding, even though I am considered "unworthy" to even attend the actual wedding and was resigned to waiting outside the Salt Lake temple, until my sister and her new groom emerged to take pictures on the grounds. We showed up to the temple about an hour before the ceremony/ritual was scheduled to finish. So having about an hour to kill, I slipped away and slinked into the nearest gay bar, The glamourous, Radio City Lounge and had a couple beers. The afternoon scene there was a mash up of homeless types, loitering junkies and old queers, nursing their beers. Even though I was wearing a suit and tie, I felt right so comfortable amongst the sleazy seventies decor. I went over to the juke box, selected some fleetwood mac, then sat at the bar and chatted with a fierce Navajo tranny, who was there waiting for her dealer. It was all sorts of classy realness and I felt right at damn home. I spent about an hour there, almost losing track of time before I had to head back to the temple grounds. I arrived just as they were coming out and one of my brother-in-laws gave me a video camera to film the whole thing. I was thankful to have something to do rather than stand there, awkwardly, waiting to take group pictures. After filming for a while, I chatted a bit with some of my cousins and other extended family, and then posed for some family photos, and that was it. A few hours later was the wedding dinner. where I ran into several old neighbors and church acquaintances, many of whom I hadn't seen since I was fifteen. It was quite amusing watching as they struggled to conceal their thinly veiled disdain for me. Needless to say I was quite relieved when it was all over. I rushed home after to throw together a playlist for a DJ gig, I was booked for later on that night. One of my Salt Lake friends who I met while I spent a few months here last winter, is a club promoter named Justin Strange. I had let Justin know that I was coming about a week in advance, so he booked me to guest DJ at his weekly club night, "Gutter Butter", at a club downtown called The Trapp Door. I drove over there around 10 pm. It was really good to hang out and play records with Justin again, he's a really cool guy. I hadn't seen him since Sundance 2008 when we met up with Bruce LaBruce for the premiere and after party of Bruce's new zombie flick, Otto, or up with dead people. We had a boozy dance-a-thon at Gutter Butter that night. I always have fun DJ'ing with Justin. He is quite the popular man about town in SLC. I keep telling him he needs to come to Berlin and Guest DJ for us at PORK. After the party, I downed about three big glasses of water and drove home, dropping Justin off at his place, on the way. It was a fun way to cap an otherwise stressful day. The following day was New Years Eve I woke up late and spent most of the day with my laptop, laying on the couch, watching trashy American daytime television. Glamourous, fierceness, such as Maury, Tyra and Judge Judy were on the agenda for that day. I was also simultaneously chatting with some local faggots online. I started chatting with Corey, this stoner dude, that I had met while I was visiting last year. We decided to hangout, smoke a little herb and have some red wine. He came and picked me up and we went back to his house. Come to find out, Corey's roommate is this queen Jason who I used to hang out with back when I was like seventeen. I knew him when I first started hanging out with other gay men. There was never anything sexual between us, we were just lady friends, she sorta took me under her wing and we would do glamourous ladylike things, such as going to get facials, and shopping for used designer duds, at local consignment shops. We'd talk about fashion, exchange beauty tips, paint each others nails, you know girl stuff, hahaha. Jason was actually the first real queen, I ever hung out with. She sorta taught me the ropes. Anyway, it was so fun seeing them both again. We had a fabulous, banjee queen realness, reunion. It was actually a lot of fun. Both Corey and Jason are the epitome of the "radical faerie," totally unique, and independent, with an amazing eclectic style. Problem was, Jason gave me some kind of pain pills (actually, I probably demanded them.) Mesh that with two bottles of red wine, between the three of us and several bowls of the chronic and you have the perfect recipe for disaster. After a certain point. I don't remember much, all I know is that I definitely had one of my, um "episodes," and that's never a cute look. Trust. Long story short, Corey drove me home and I was asleep in my bed before the ball dropped. There is something about Salt Lake that just really brings out the crazy in me. I can't quite put my finger on it, but it's definitely a bit of a problem, as you will soon learn. The next few days were rather uneventful. The wedding reception was oddly scheduled for January 5th, five days after the actual wedding. While my mom and sisters were busy making preparations for the reception, I was busy making preparations for my five day stopover in New York, trying to arrange which friends I was going to stay with and what different parties were going on while I was going to be in town. Everything was all in order and my flight to New York was set to leave early in the morning on January 8th. I was really excited to go to New York. Although I was nervous about the Sprouse opening, I was definitely more excited. In the days leading up to Laura's wedding reception, I was getting a bit weary of staying at my parents house. It was quite a full house, with my oldest sister, Sarah, her husband Perry and their three young children staying there too. Out of all my five siblings, there has always been the most tension with Sarah. She is by far the most religious sibling of mine and therefore the most self-riteous and judgemental. In recent years the tension as only gotten worse, especially since she got married. I actually really liked her husband Perry, while they were dating in college. But then something happened after they were married. Perry opted out of graduating from a regular college, and instead pursued a career in the Army. Ever since he went through his Army basic training, he changed. He adopted this absurd machismo persona. It's like he's trying to be this big macho tough guy. It's actually sort of laughable because it seems so forced. He used to have a great sense of humor, whereas now he is a lot more serious. Anyway, the army is one thing, but things definitely took a turn for the worse, when he started working for the NSA (National Security Agency) probably one of the shadiest, government/military agencies in the entire world. Think Adolf Hitlers SS or the East German Stasi and you're on the right track. Totally unconstitutional, these are the guys who are spying on regular Americans, wiretapping your phones, keeping files on people, and reading you're emails. Basically their specialty is infringing on our civil liberties, on a daily basis. The saddest part is that Perry actually believes that he he doing a service to the country. When in reality he is part of the problem, a mere pawn who is simply being used by a handful of powerful, evil men who are all to aware of the sinister agenda that they are bringing forth into our world. All the while, their minions remain oblivious. What Perry doesn't realize, is that he is just as much a terrorist as the common Palestinian freedom fighter on the streets of Gaza, the only difference is that he doesn't really have a clue as to what he's fighting for. Now, I am a very outspoken person and I also have very passionate political views, I think that is probably quite obvious by now. Anyone who knows me is acutely aware of this. So when put in a situation where I am living under the same roof as someone like Perry, there are bound to be some clashes, and believe me, clashes, there most certainly were. Not necessarily one on one with Perry, but in a more group like setting. For example, one night while sitting around the dinner table, The conversation turned to Proposition 8 in California. I explained to my family of Mormons, that I thought it was absolutely inappropriate the way the Mormon church donated millions upon millions of dollars in support of a ban on gay marriage in California. I explained that in addition to violating a separation between church and state, through their preaching politics from the pulpit, it was also a very bad public relations move on the part of the church, because of the amount of anger and resentment that so many people now feel toward the Mormon church, as a direct result of the churches actions, with regard to Proposition 8. I also said that, if the church wants to concern itself with politics, then it should be willing to give up it's tax exempt status. Glancing over at Perry, I noticed he could hardly hide his contempt for me and what I was saying, but I didn't care. Let the teacher teach. Thats my attitude ;) So that pretty much sums up the backstory between Perry and I. Basically there has been tension between us for years, Once several years ago he even attacked me, totally unprovoked during an argument I was having with my parents, that didn't even concern him. Basically, he is a hot head, who really just needs to chill the fuck out and educate himself. So on the day of my little sister Laura's wedding reception, I was having some anxiety about a lot of things. I was nervous about going to the reception. I was nervous about going to the opening in New York and I was just generally not having the best day. So I called my doctor and asked if she would prescribe me some anxiety medication, just for the reception and also to take with me to New York. Big mistake. Huge mistake. To make things worse I had a couple drinks in the hour or two before the reception that night. Just for future reference. I don't advise ever mixing Ativan with alcohol. Bad things happen. I went to the wedding reception and stayed for about an hour. I was completely wasted and finally my mom came up to me and said, I think you should go home to bed, So my brother drove me home and after that I have very hazy memories of what happened next. Sarah was home and was trying to put her kids to bed and for some reason I decided I needed to look for something in the closet of the room where they were sleeping. It was a coat that I wanted to bring back to Berlin with me. It definitely could have waited until the next morning and I'll be the first to admit that I was probably being quite obnoxious. Obnoxious, yes, but definitely not violent. Anyway the next thing I remember is Perry attacking me and pushing me up against the wall. At that point, I punched him hard in the nose, giving him a bloody nose. Yes I was drunk and I was at fault in that sense, but it was Perry who escalated things into a violent situation. I was just defending myself as anyone would. The next thing I know Im being held down to the ground, struggling to get up. I heard Perry yell at my sister to call the police. Now I didn't mention before that about five years ago I had gotten pulled over for drunk driving after leaving a bar while visiting Salt Lake. I never received anything from the courts about a date to appear, so I just left for Istanbul, where I had a job teaching english at the time. Then finally, only a few months previously during the fall of 2008 my mom emailed me saying that a letter finally came in the mail for me, saying there was a warrant for my arrest, because of the drunk driving offence from way back in 2004. So I knew that I had a warrant and I was worried about getting pulled over by the cops because I knew if I was, then I would go straight to jail. Perry and Sarah knew this as well, so they called the police knowing full well that regardless of who started the fight, I would be going to Jail because I had a warrant. So when I saw my sister calling the cops, my initial reaction was to run away, in order to avoid arrest. So I ran into the backyard, but I was so drunk that i just stayed there for a few minutes and then stumbled back into the house. The police were there. When they saw how intoxicated I was, without any questions asked, they placed me under arrest. I woke up face down in a holding cell at the Salt Lake County Jail trying to piece together how I had ended up there. As I remembered the events of the previous night. I was absolutely livid. Livid, not only at myself for getting drunk and making a complete fool of myself and embarrassing my family at the reception, but even more angry at Perry for attacking me, when I did nothing to provoke it. Being obnoxiously drunk and being a violent drunk are two very different things and I was certain that I was guilty of former and not the latter. Even the police report confirmed that Perry was the one who instigated the violence. I was booked into Jail on Monday night and didn't see the judge until Wednesday morning. When the judge looked at my file and saw that I had no previous criminal record (at least in Utah ;) he immediately granted me a pre-trial release from Jail. I was set free two hours later. I was so relieved, because I still had barely enough time to catch my flight to New York for the opening of the Sprouse retrospective. Something I had been looking forward to for months. Now, here is where shit gets really fucked up. My old boss Lynn was waiting for me when I walked outside, and she drove me to my parents house, where I immediately started packing my bags to catch my flight to New York. I was out of jail for less than two hours, when I was talking to my dad in the living room and I saw three police officers walking up our front walk. My dad let them in and they immediately rearrested me, saying that they didn't know that I was living in Germany. I found out only later that my own parents had called the Prosecutor, told her that I was a flight risk and suggested that I should go back to jail. They did this knowing full well how important it was to me to attend Stephen's opening. Now, I know I have made my mistakes in the past but I don't care what anybody says, Nothing and I mean nothing will ever excuse what my parents did to me that day. regardless of their reasons. They said they did it so that I would get help for alcohol abuse. Now I will be the first to admit that I have my issues with alcohol, but I am also an adult and they need to understand that only me and me alone has the power to address that issue. Not even to mention the fact that they just need to stay the fuck out of my legal business, period. I was so angry, I was sure that I would never speak to either of them ever again. They have just fucked me over one too many times in my life and they know it. My lawyer was in absolute shock at what they had done. She couldn't believe it. I spent another six days behind bars even missing my flight back to Berlin from New York. Now i have been to jail before, but never for 9 days. I was a miserable experience that I never, ever want to repeat. I had a lot of time to think, read, and write. Below are some excerpts of my journal entries, that I wrote while I was locked up. I thought I'd include some of them to lighten things up a bit. Some of them are pretty funny ;)
01-09-09
This morning I had the joyous experience of waking up in a six by twelve foot holding cell, in Salt Lake's illustrious county jail. About eight of us snoozed in slumber, virtually on top of each other. Myself, being the youngest and smallest of the bunch, was forced to catch my z's next to the toilet. There is nothing quite like waking up to a 300 pound Mexican's urine splashing onto your legs. The same hombre, whom, all night, was ripping the loudest and most rancid farts that my senses have ever experienced. I gotta tell ya, it was the lap of luxury. I simply couldn't refrain from murmuring to myself, "aint it great to be alive?" In reality it was probably one of the only brief moments in my life, where I honestly and sincerely wished I was dead. If I had had a gun, I would have held it to my head and pulled the damn trigger. I was in such a state that I wouldn't even have been able to muster up the compassion to put the others out of their misery as well! oh no, no, no... I was in no mood! At the stroke of 6am our breakfast was brought in to us by a charming, toothless bulldyke named Trixie, (swear to damn God) Trixie. Our homegirl Trixie spat copiously as she barked out our orders to rise. We dined on an ever so elegant concoction, which can most aptly be described as gruel. There was also a shriveled corpse penis-like sausage on the menu as well, however I simply didn't feel worthy enough to sample that rare delicacy. Baker, my homely but kind, closeted homosexual, cellmate was just replaced by another inmate. All I've gathered so far is that his name is Dave.
01-10-09
I can't fucking sleep in this blasted fucking shithole. Insomnia has never before felt so tediously miserable. My singular consolation in here is the pathetic collection of books, ninety percent of which are third grade level and I do not exaggerate. I read "Breakfast At Tiffany's" by Truman Capote the first couple days and I'm reading a book right now called "The Glass Castle" by Jeanette Walls and it's actually quite good, a very entertaining memoir. I have no idea what I'm gonna read next though, it's slim pickings. It's either "Lord Of The Flys" which I read when I was ten, The Bible, or The Quran (shudder.) Hopefully someone will return some new titles to the book box soon, otherwise I'll have to resign myself to staring at the ceiling. Actually today I had an interesting discussion with my cellmate Dave. We talked mostly about politics and religion. I have never been one to shy away from controversy and some of these Utahns need to hear a different perspective for a change. This morning, while walking laps around the pod, I fell in damn love. The object of my affection, a huge monster of a thug, with chiseled features and covered from head to toe in prison ink. (don't judge!) He was sexy as hell and besides, it's always smart to seek out protection, when your the skinniest queer in the clink. Well apparently I wasn't the only one who had my eye on the prize. Out of nowhere some young little twink boy started doing laps with my boyfriend and lemme letcha know, I was seeing red! I was about to cut a bitch. How dare this little skank try and jump up on my play. Bitch needs to find her own prison trade. She'd better watch her p's and damn q's if she know what be good for her. Hahaha this place is making me so fucking ghetto, I swear.
01-11-09
I have been having the weirdest, coolest dreams since I've been in here. For the last two nights, I have been dreaming about Paris. All of my dreams at night have been set there and they are so vivid. I'm starting to think that Paris might have a place in my future, maybe in 2010. As soon as I get all this shit here behind me, I'm going straight back to Europe and never looking back. The only real thing in my life, attaching me to this land is my family, but now I'm beginning to realize that they will probably never understand, or accept me for who I am. I miss all my friends in Berlin. It's so strange to finally feel like I've made a home for myself there and now to have it ripped away from me in a single incident is incredibly frustrating and disappointing. I have been incarcerated here for an entire week now and I'm starting to get used to the food which is so shocking because it's so fucking horrible. The guards too are so horrible. They are such assholes. What kind of person is lured by a career where all you do all day is yell at, and boss people around who hate you. If you ask me, most people who are attracted to careers as cops or prison guards, do so in order to satisfy some pathetic power trip. Most of them are total control freaks. Last night they woke us all up at 1am to change our bedding and jumpsuits. While we are changing, they search our cells for contraband. I wasn't really aware of procedure and so when I was done changing, I walked back into my cell, while the guard was doing a search. I soon learned that entering the cell during a search is striclty forbidden. The ugliest, meanest, dyke I have ever laid eyes on, was searching our cell. When I entered she literally threw me out, screaming at me to get the fuck out, with her screeching trailer trash, twang. I was in such shock as I began to wonder what had happened to her as a child to make her such a miserably rude individual. I wisely kept my mouth shut and refrained from asking her. Today I watched the local morning news. The leading stories of the day; Two separate stories centered around child molestation, child brides and polygamous mormon sects, A proposed three dollar tax on cigarettes, the nations sinking economy and terror, terror, terror... GET ME THE FUCK OUT OF THIS JAIL, THIS BLEAK ASS STATE AND THIS FASCIST FUCKING COUNTRY!
Finally after nine days in the slammer, they called me in the morning, telling me I had court that day. I leapt out of bed and dressed excitedly. Here was my chance to finally go before the judge and possibly get the fuck out of there. They chained me up, as if I were a violent serial killer and put me in the back of a van for the drive downtown to the courthouse. I sat in a holding cell until my lawyer came in to talk to me. She told me that the charges against me were a complete injustice and that she was quite confident that she could get me acquited on all of the charges. I was so relieved. As I was escorted into the court room, I saw my parents sitting in the audience. The sight of them disgusted me. My lawyer had advised me to plead not guilty on all counts, so that's what I did. My lawyer seemed a little bit shaky and inarticulate while making her case to the judge. I only found out later that my lawyer was an intern, not even a real lawyer yet. This, I suppose is what they call justice in a capitalist system. The Judge basically threw the book at me, giving me no pre-trial release, and only reducing my bail by 5,000$ and setting it at 10,000$ cash, no bond. Then the fugly spinster said that I must remain in jail until the trial was completed, which could be a month or two. Yeah, two months for a first offence. Welcome to the fascist theocracy, known as Utah. As they were leading me out of the courtroom, I began to ask myself if it was really worth spending that much more time locked up, just to uphold a principle. Immediately, I decided that it wasn't and I turned to my lawyer and asked her if it was too late to change my plea. She said that it wasn't too late and so we went back to he judge and she accepted a guilty plea on all counts. My lawyer said that she would immediately file an appeal. I was taken back to Jail and released an hour later. I took the train home and began packing my bags again. When my parents got home, things got very heated. I was so angry with them and things became very emotional. I just feel like I have been let down so many times by them. From the time my mother told me she would rather me be dead than gay, to the time they kicked me out of the house, when I was 17 and still in high school and onto the streets, telling me "you can't live here and continue living this sinful lifestyle, we don't want our other children to think that we condone it." Then trying to do the back pedal several months later, after learning that I was hustling, in order to survive, on the streets on Los Angeles. Ironically, sometimes, I have felt that it is I who better emulates the Christ figure that they worship, if only for the sheer number of times that I have shown them forgiveness, even when my closest friends remain baffled as to why I even still speak to them. Sometimes, I do have to ask myself, why I love them so much? Why I put up with so much from them? So on the day that I was released from jail I sat down with them and said that if they wanted to be a part of my life in any way at all in the future, then they would need to stop denying, and own up to a few certain, but pivotal mistakes that they have made in the past and for once try to understand how those mistakes have dramatically influenced the course of my life. After a couple of hours, finally, they did. I also demanded that they buy me a new ticket back home to Berlin, due to the fact that, it was they, who called the police a second time and caused me to miss my original flight home. They booked me a flight to Berlin, scheduled to leave a week later and apologized for everything. It was really nice to see them finally see things from my perspective for a change. It has certainly been a long time coming. I am by no means under the delusion that I am completely guiltless. I am responsible for my own life and like anyone, I have my issues, one of them is definitely alcohol. it tends to get me into trouble. I am very much aware of this, but I am also aware that I am the only person who can address this issue, in order to effect change. As emotionally draining as the entire ordeal was, I was just happy to know that in a weeks time, I would be back home in Berlin. That week happened to be the last week of the Sundance Film Festival, so I decided I would try and catch a couple screenings and maybe even write some reviews. I didn't know anyone presenting films at the festival this year, so I wasn't really clued in as much, with regard to events and parties as I have been in the past. I didn't really care though, because I had been sober already for almost two weeks and I wasn't quite ready to leap off that wagon just yet. I went online and browsed the films that were screening down in Salt Lake that week and wrote down the show times of a few that looked interesting. One in particular, I knew I had to see. It's a gay prison film starring Jim Carey and Ewan McGregor as lovers. I remember when I was living in Portland back in 2007, I went to see the film "Factory Girl" with my friend Gus, who is a filmmaker. He had just finished editing his film "Paranoid Park" and after watching the film, I remember asking him, at the coffee shop next to the theater, what he was going to do for his next project and he told me that there was a gay prison script floating around, that Jim Carey was attached to. He said it sounded really funny and we discussed who he would cast as Jim Carey's lover, I think I suggested Ryan Gosling (if only, because I'm in damn love with him) and Gus thought Hayden Christensen would be good in the role. I told Gus, that I thought Hayden did OK playing the Bob Dylan role in "Factory Girl", but wasn't sure if I could see him as Jim Carey's prison bitch! Anyway, it didn't matter cuz Gus ended up doing the Harvey Milk script, that, fellow Mormon born, Lance Black penned and just won an Oscar for. As it turns out the gay prison script ended up in the hands of the feature, debut, director duo, Glenn Ficarra & John Requa. The title of the film ended up being "I Love You Philip Morris" and it is one of the funniest and most entertaining films that I've seen in a very long time. Basically the film is about Steve Russel, played by Jim Carey, a recently out and proud, ex police officer, turned con-man. After coming out and divorcing his wife, he moves to Miami Beach where he soon learns that the "gay lifestyle", ie driving nice cars, wearing designer clothing and jewelry, eating at fancy restaurants and generally just being fabulous, is quite expensive. So he turns to credit card fraud and other such cons in order to bankroll everything. It confronts the superficiality and materialistic aspects that all too often, seem to be associated with the gay stereotype. In one scene his naive Jesus loving, ex-wife, whom he remains very friendly with, asks Steve, "So help me understand, does stealing and the whole gay thing sorta like go hand in hand?" After finally getting caught by the police and landing himself in and out of jail (through several escapes and attempted escapes) he finally meets the love of his life, Philip Morris (Ewan McGregor) in the prison library. Steve continues his conning ways, somehow finding a way to get him and his new lover assigned as cellmates. In one scene they are in their cell at night and one of the other inmates a few cells down is screaming bloody murder night after night, all night long, the next day, the screaming inmate is beaten badly, by a gang of thugs (he stopped screaming during the night after that) When Philip confronts Steve about the beating, asking, sternly, "did you pay to have that man beat up?" When Steve sheepishly admits that he did, Philip exclaims, "I can't believe you did that? That is absolutely the most romantic thing anyone has ever done for me." The theatre erupted in uproarious laughter. I won't give away anymore of the movie, other than to say that it is absolutely hilarious. It sort of reminded me a little bit of the film "Catch Me If You Can" with Leonardo DiCaprio except for way gayer and way funnier. The cinematographer, Xavier Perez Grobet did an excellent job as well, as the costume designer, Davis C. Robinson. The aestetics were great, the film was well cast and hysterically entertaining. As I left the packed theater, my thoughts drifted back to a certain similar character from my past. I didn't know him well, just from going out to night clubs in New York. I was out at a club called Limelight one night with some friends, when we met these two older gentlemenz in their forties, who gave off a very conspicuous, pedo, predator, vibe. (One of them was always with this little latin kid, who, i swear. couldn't have been much older then fourteen.) They both had southern accents and flaunted money, drinks, drugs around like crazy. Everytime we ran into them, they would give us, k, e, or coke and try and lure us back to their hotel rooms, unsuccessfully I might add. After a while they sort of disappeared and we never saw them out anymore. Then about a year or so later, I was visiting Los Angeles with my friend Adam and we were at some club hanging out, when some creepy old man came up from behind us and said "Hey little boys, do you want some candy?" I turned around to see one of the Limelight peds standing there, wearing the creepiest most lecherous expression on his face and holding out some ecstasy pills. We immediately snatched the pills away and swallowed them down without a second damn thought. He told me that he was living in L.A. now and when I asked where his other friend was, he told me, that he was shocked to learn that his friend was in prison. As it turned out, his friend was this famous, armed bank robber, who was wanted in several states and was finally caught by the FBI. I was so shocked because I had partied with this guy several times. I guess it just goes to show that you never really know people. That guy who bought you a drink at the bar the other night, could be a murderer or a rapist. You just never really know.
La Roux - I'm Not Your Toy (MP3)
No Doubt - It's My Life (MP3)
Fleetwood Mac - Never Forget (Cut Copy Lifelike Mix)(MP3)
Deseret Wilderness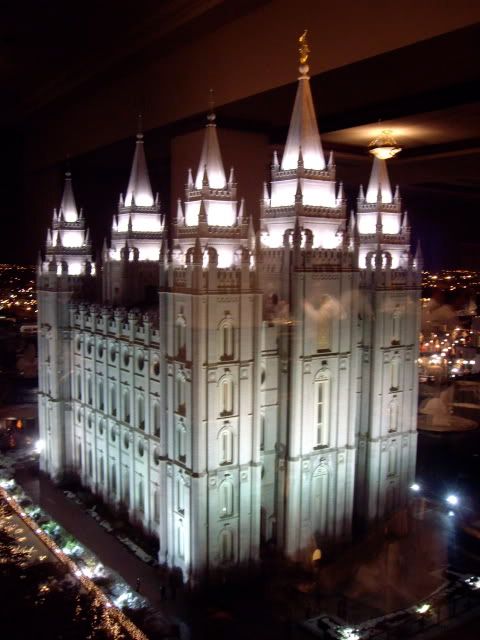 Masonic Lodge
Baby Factory Inc.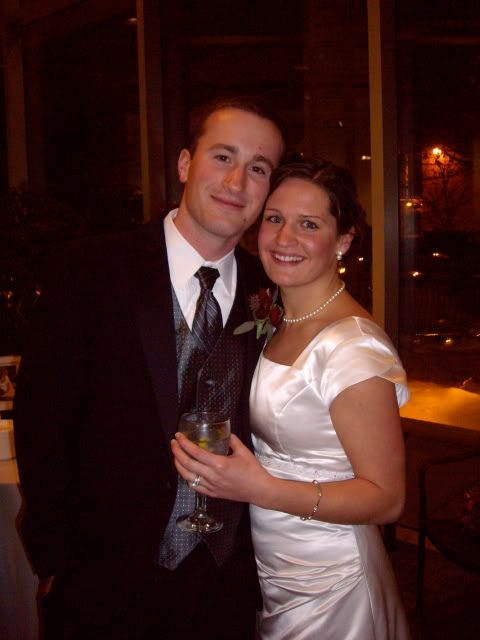 Laura & Ben Hunter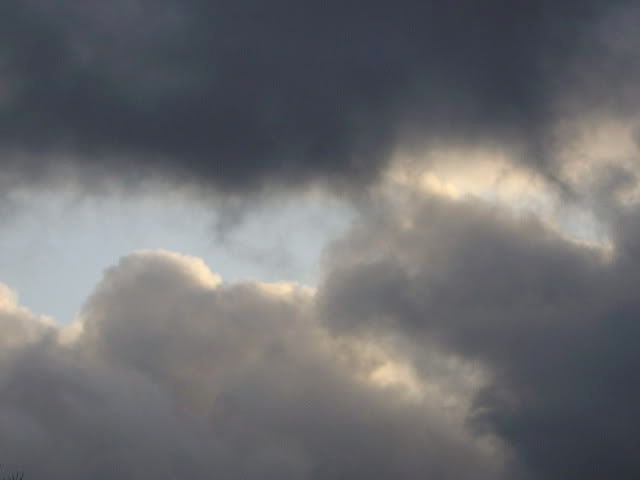 Silver Lining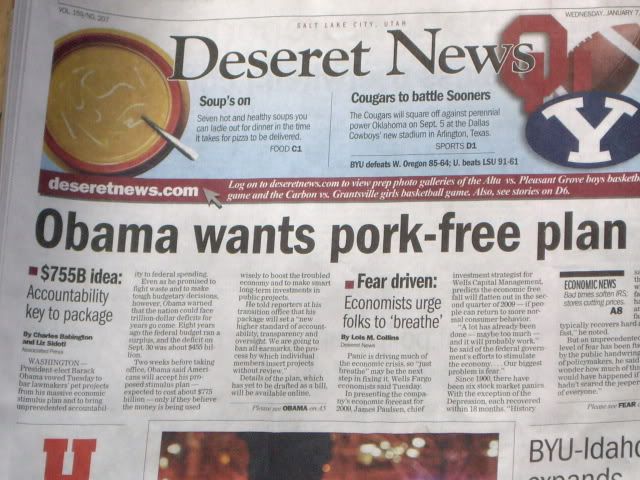 Oh Hell No
Street Fog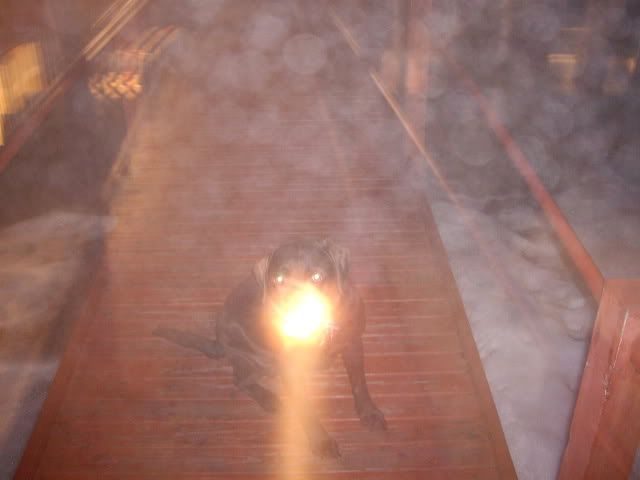 Beam On Salta
Tennessee Life
Self Portrait 2009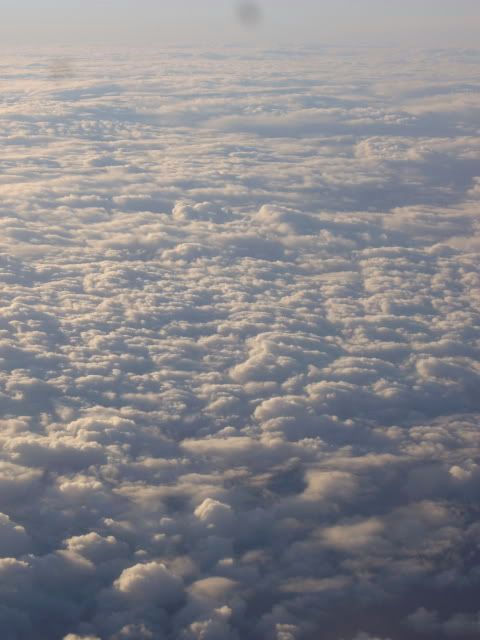 Clouds
When I booked my flight back to Berlin from Salt Lake, I arranged it so that I would have a five hour layover at JFK. It gave me just enough time to take the train into Manhattan from the airport, and go down to the Deitch Projects in SoHo to see the Stephen Sprouse retrospective. I had not set foot in Manhattan since Stephen and I left the city for Buenos Aires five years ago, where we spent the last couple months of his life together. I guess I have been sort of avoiding going back to New York in an attempt to avoid bitter-sweet memories. As I rode the train into the city and emerged from the subway, onto the streets of SoHo, finally walking the streets of New York again. Strangely, I felt nothing. I don't know what I expected, but there were no big changes, at least on the surface. The city looked and felt the same as it did when I left. It felt almost as if no time had passed at all. I remember back in 2006 when I went to London for the first time in four years, the city felt different, it felt changed somehow. I didn't get that sense in New York at all. Although I'm sure if I had stayed there for a week and had a chance to go out on the party scene, I would probably notice some changes. I made my way to Deitch Projects in the brisk February air. A feeling of pride began to swell inside me as I approached the gallery and saw the big day-glo, Sprouse sign in the front. It was a Saturday afternoon, so there were quite a few people there viewing the exhibition. It was absolutely wonderful. The show was curated by Stephen's longtime assistant Jamie Boud and he did an amazing job in capturing the Sprouse aesthetic. He was certainly the best person suited for the task. The ground floor was dedicated to Stephen's fashion design, a room full of mannequins modeling some of his most famous looks, with his paintings interspersed on the walls in the background. The downstairs floor was darkened and lit only with black lights. Fashion sketches, drawn in day-glo colors lined one wall, while the opposite wall was lined with some of his paintings, which were also painted using day-glo colors. The room gave off a brilliant luminescent essence, that was incredibly striking. The upper floor showcased a wall of Stephen's Polaroid collection from the 80's, It was so cool to see old candid shots of Stephen and his friends, who included, Debbie Harry, Keith Harring, Paige Powell, Jean-Michel Basquiat, Tama Janowitz, Teri Toye, Steven Meisel, Andy Warhol and Patti Smith. There were also stacked up T.V.'s, all painted silver (one of his favorite colors) showing old video footage of him working, his fashion shows, old interviews, and T.V. static. (his favorite T.V. show;) There were also samples of some of the furniture he designed for Knoll and a few pieces from his 2001 Louis Vuitton collection. Marc Jacobs is actually doing a Sprouse inspired collection for Louis Vuitton Spring/Summer 2009, in conjunction with both the Deitch retrospective and The release of The Stephen Sprouse Book by Mauricio Padilha and Roger Padilha, and it looks absolutely amazing. I suspect Marc may have put the stacks of drawings and sketches that Stephen told me he had left at the Vuitton design studio in Paris, to good use. Either way, Marc's new collection for Louis Vuitton is fucking fierce and I'm just glad to see Stephen's genius being showcased to the world again, regardless of who is profiting from it. Although I missed the openings and parties for the collection, book and retrospective, due to my parents calling the cops and telling them to rearrest me because "I was a flight risk", I wouldn't have missed seeing this retrospective for the world. Stephen had been planning this collaboration with Jeffery Deitch since long before he passed away. I'm just so glad that I was able to go and see it. Stephen was the love of my life and is still such an inspiration for me both personally and artistically. He taught me so much. There isn't a day that goes by, where I don't think about him. I still miss him very much. But at the same time, it has been five years now since his death and I think that it is time for me to let him go and move on with my life. I need to look toward the future now, instead of clinging to the past. I know Stephen would want that for me. He was all about the future. The future, outer space, and rock 'n' roll! I left the gallery with a huge smile on my face. I was so proud of him. I had about one more hour before I would have to head back to the airport, to catch my flight back to Berlin. I walked around SoHo and the Lower East Side, taking some photos, then I rode the N/R uptown to my old apartment building, all the same doormen were still there and they were so shocked to see me after so long. From there, I walked back to Penn Station and took the train back to JFK. As I sat in the terminal, waiting for my flight, thinking about New York and Stephen and everything that I have been through on this ill fated trip to America, I began to look toward the future and everything that I had coming up for that month, Performances at PORK to worry about, my DJ gigs, The Berlin Film Festival and my performance on February 21st at the HAU festival; 100° Berlin, which I still wasn't yet sure what I was going to do. So I decided that in conjunction with all the other events paying tribute to Stephen. I decided that I would both draw inspiration from Stephen and dedicate my performance to him as well, in an attempt to, after five years, finally, perhaps capture some closure.
Röyksopp - The Girl And The Robot (feat. Robyn)(MP3)
Fever Ray - Seven (MP3)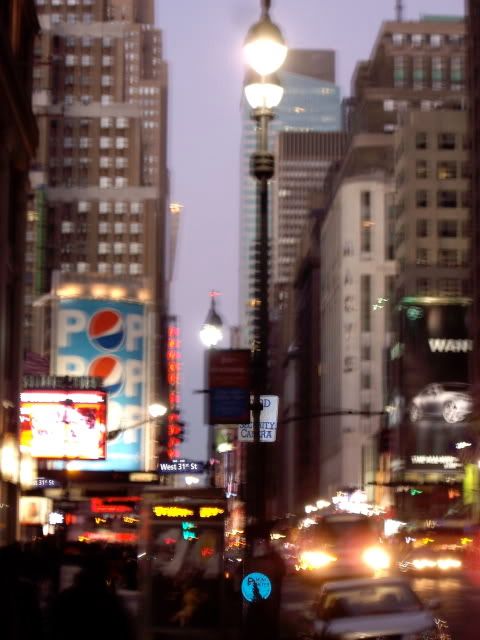 NYC POP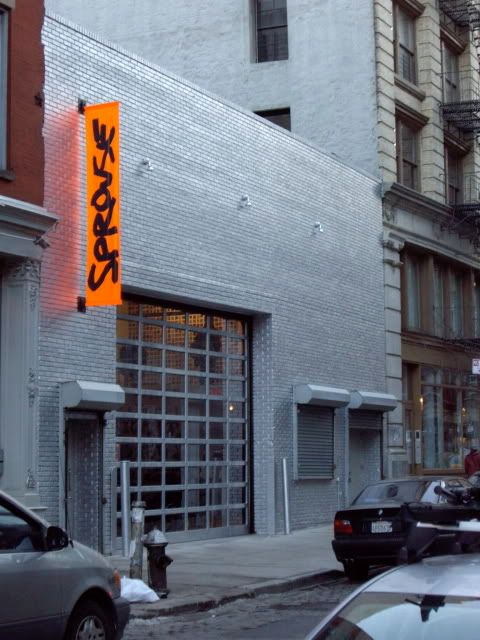 Sprouse @ Deitch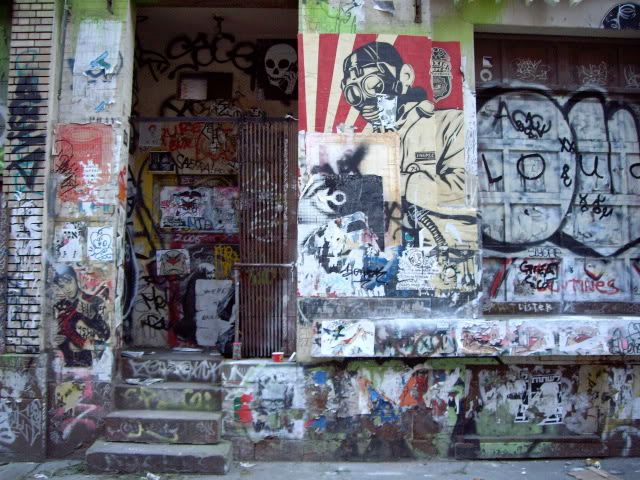 SoHo Stoop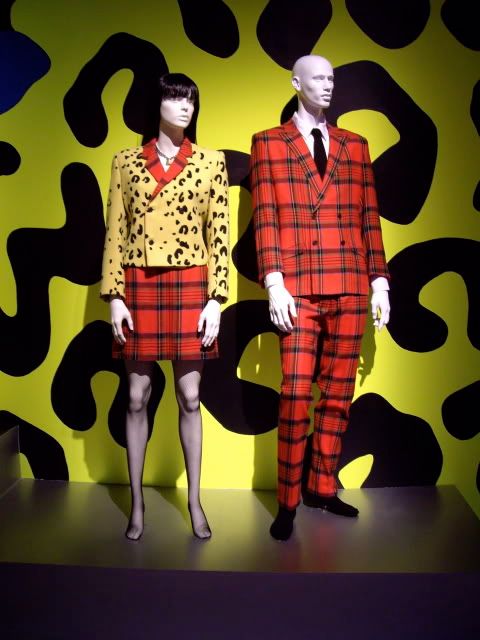 Punk Meets Prep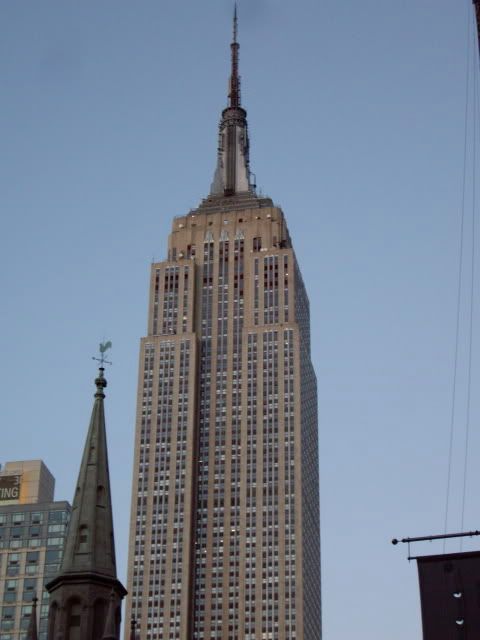 E M P I R E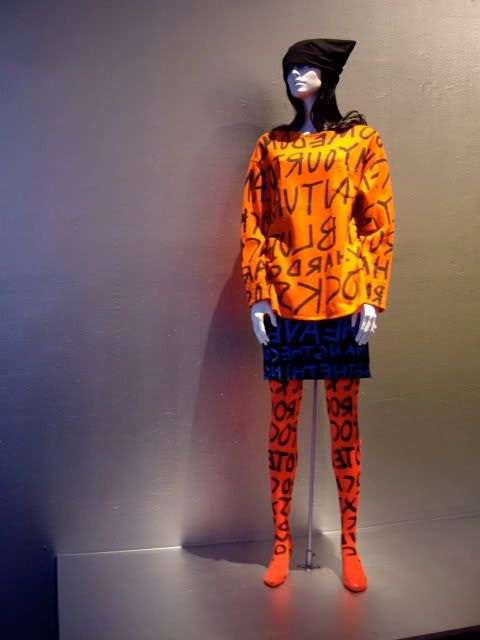 Graffiti Silhouette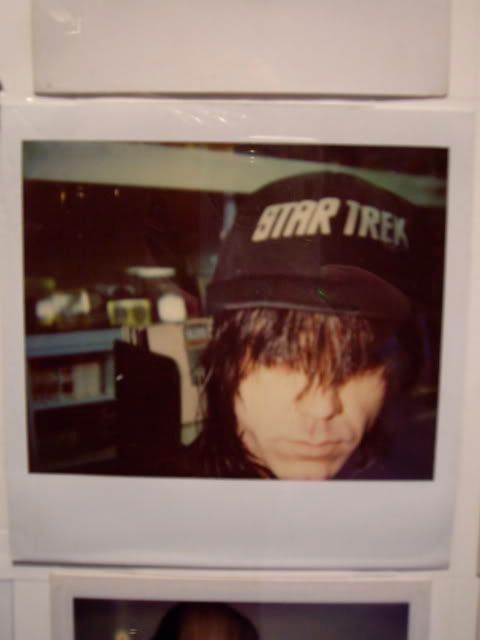 Stephen Star Trek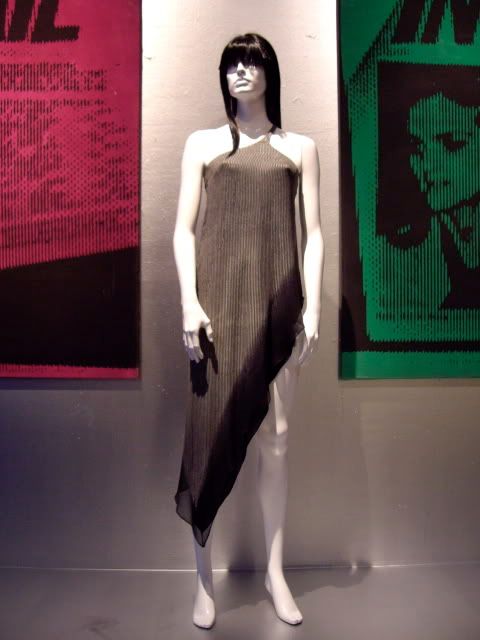 Heart Of Glass
T.V. Stripes
Iggy Pop On The Cross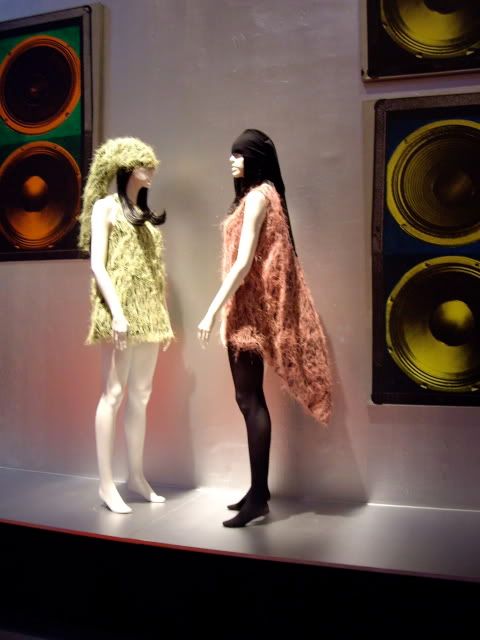 2053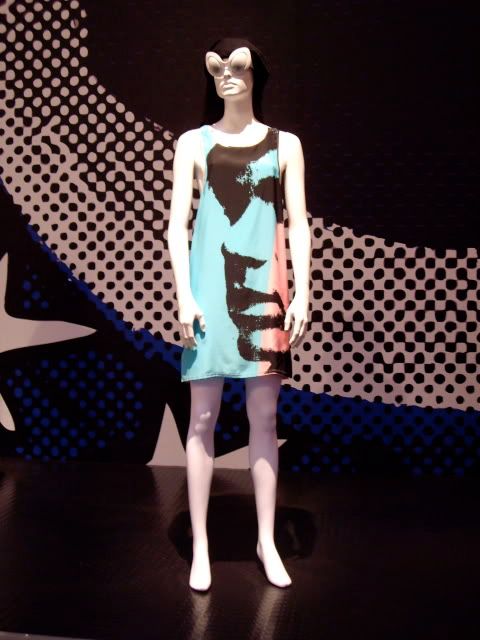 Warhol Dress
Radical Patty
POP Basquiat
80's Mod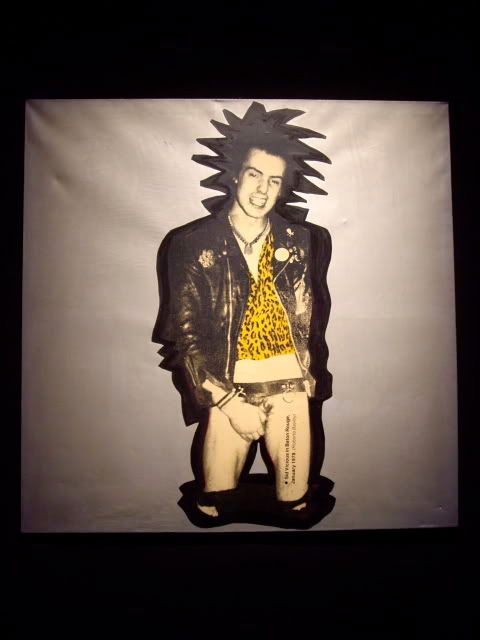 Sid Vicious Holds Crotch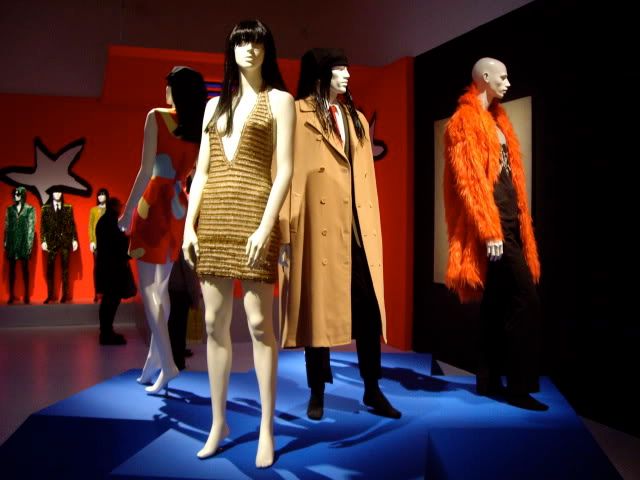 Timeless Fashion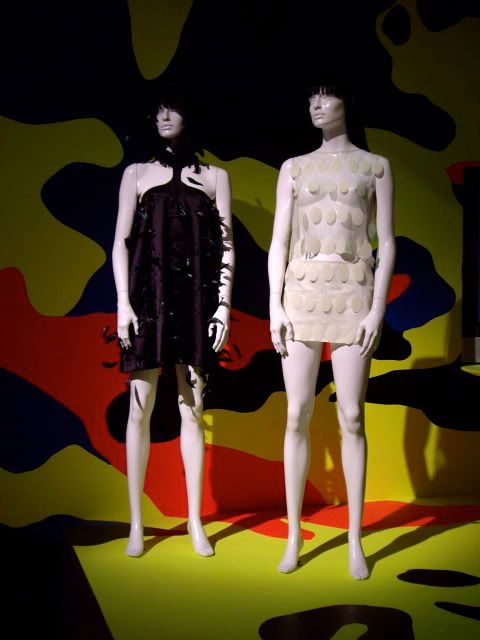 S P R O U S E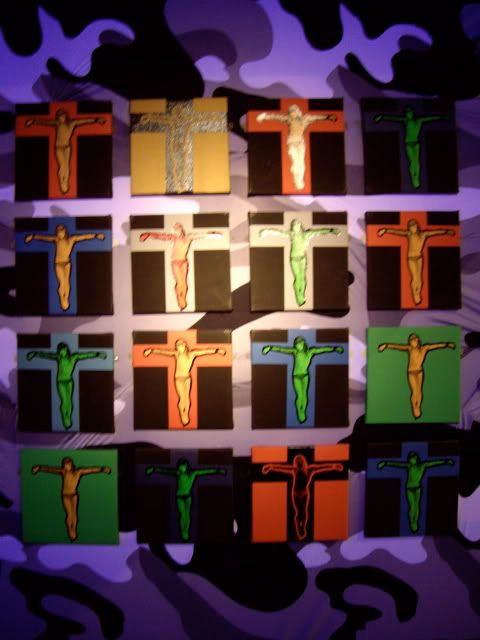 Mini Iggy Pop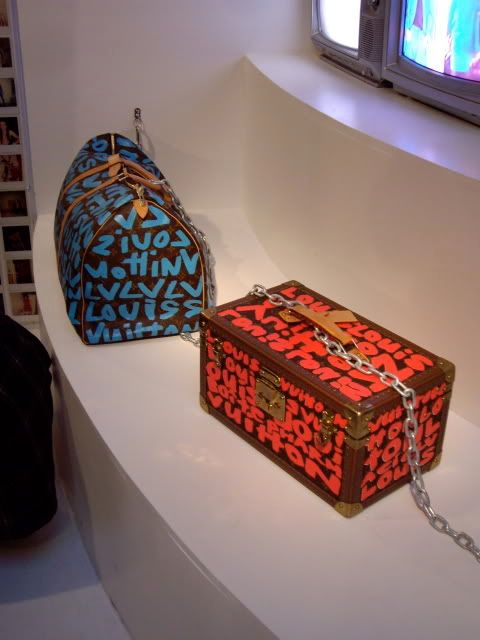 Sprouse For Louis Vuitton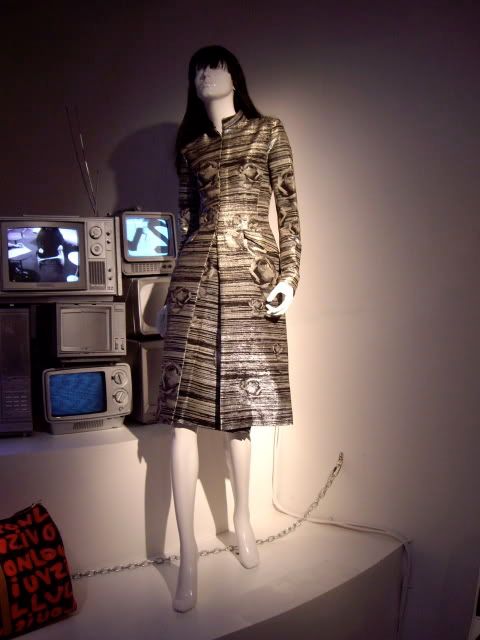 Static Rose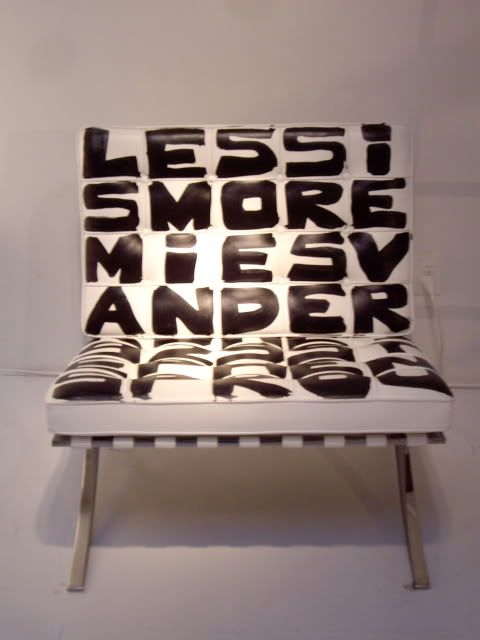 Less Is More
The Work Of A Genius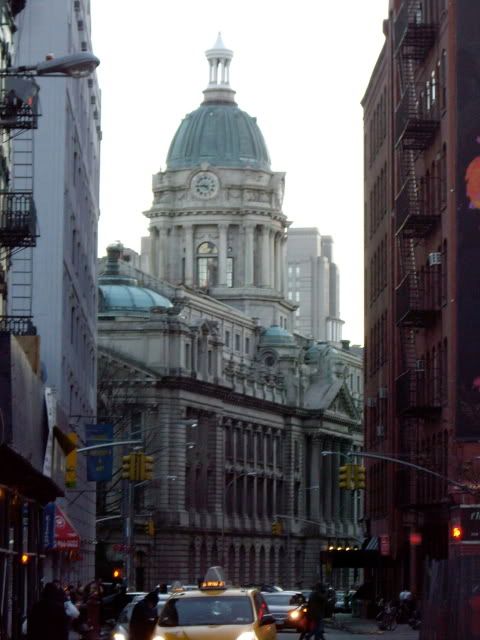 Calvin Klein's Circular Bedroom
The Glamourous Princess Georgina
Polaroid Wall
I arrived back to Berlin on Sunday January 25th. I had spent an entire month in the Fascist States of America and words cannot even explain how happy I was to be back home in Berlin. When I arrived back to my apartment, both my roommates were still asleep. I wasn't particularly tired but I knew if I stayed awake, I would be exhausted later on that night and I had to work that night. We had flown No Bra in from London to perform at PORK that night, so I needed to be good and rested, so I took a sleeping pill and slept for another eight hours. I woke up around eight and chatted a bit with my Pietro and Ralf. Then I went and ate dinner and started working on my set list for that night. I headed over to the club for sound check around 9:30 where Travis, Mario, and Susanne Oberbeck aka No Bra were waiting. Susanne is a friend of Travis' and is really sweet, strangely soft spoken and shy for an artist who seems so unabashed when on stage. A lot of people came out that night to see her perform, even though we charged more than double what we usually do for the cover, the place was packed wall to wall. Her performance was amazing and the audience didn't want to let her get off the stage. They were begging for "just one more." After the show, I started my set and couldn't keep myself off the dance floor. I'm sort of an, um, unorthodox dj. Actually, I wouldn't really even call what I do dj'ing. It's really more music selecting ;) I'm a music selector! Often times, I don't even mix the tracks together. I'll either use my I-pod or straight from my laptop on I-tunes. Some people might find it annoying or unprofessional, but I really don't give a fuck. If I really knew what I was doing and had the proper equipment, knew how to beat match, etc, then I would take the mixing a bit more seriously, but I really can't be damn bothered. Besides I like to spend half of the time on the dance floor. I just like to hear good music, period. Sometimes I don't even pick a new song until ten seconds before the other one ends, hahaha what? don't hate, bitches! I have to say though, that all the other DJ's who play at PORK are much more skilled than me, so we're not 100% ghetto, we are however 100% fabulous, and don't any of ya'll forget it! Sometimes it pays to know what the fuck you're doing though, as I learned about a week later. I had been booked for a couple of months to DJ a night at Tom's Bar in Schoeneberg. When I got there we were missing wires and shit and I couldn't figure out how to use their mixer. It was really not so fierce, but finally we got it figured out. Then later on they were complaining about the sound quality, I was like ya'll are just dumb. Shut the fuck up. Luckily for me, right then, my lovely lady friend Snaxine showed up and saved the day. She knows her way around the music studio and for that matter, a dj booth. With the flip of a switch, she had us back in business and for the rest of the night, it was smooth sailing. By the time I got off at 4am, I was completely wasted. The manager paid me 90 euros and I was on my way. The party didn't end there, oh no, we continued onto Bull, and then to this 24 hour bar in Kreuzberg called the Rotes Rose (red rose) It's quite a notorious place and conveniently located right around the corner from my flat. I have hazy memories of the night but I do remember going to the bakery to buy a croissant and then going home to bed. When I woke up later on that day, all of my money was gone. I wasn't sure if I had lost it the night before, or what (the most likely scenerio) whatever the case, it was gone. I didn't say anything about it that day to my roommates (mostly because I was embarassed) then I received an email from my bank in the U.S. saying that there had been some suspicious activity on my ATM card. I never take that card out with me. it always just sits in the same place on my desk. I rather abruptly jumped to conclusions and just lost it. I accused one of my roommates of stealing my money and using my credit card etc. I was just totally crazy freaking out. He of course denied it, and I was packing my bags telling them I was moving out. It was quite an insane episode and gave me yet another reason why I should probably stop drinking. It's never a good idea to accuse anyone of something unless you have proof. But I'm notorious for these type of crazy antics. perhaps it comes from traveling and being ripped off and mugged so many times. I have developed some serious trust issues. Anyway, I had to go to work that night and it was so miserable the entire night. I just wanted to go home. Thats one thing that can suck about having a weekly party. Some Sunday's, I'm just not feeling it, but I have to go anyway, no matter what. about a week later I apologized and made peace with my roommates, but it was still a bit awkward after that, which made me even more eager to move into my own studio, I was planning to move out at the end of the month anyway, because I was so tired of the coal heating bullshit. I was always freezing cold in that flat and I was sick of it. I will never rent a coal heated flat during a Berlin winter, ever again. It's really not the look of the season. Being as it was, the coldest time of the year in Berlin, it also meant that it was time for the Berlin Film Festival. It's actually a perfect time to inject a bit of glamour into what is an otherwise rather bleak time of the year in Berlin. I was planning to meet up with my friend Gus, who was presenting his new film Milk, at the festival, which I was fortunate enough to have been a part of. Also legendary, superstar/1960's Warhol muse, Joe Dallesandro, was also presenting his documentary at the festival. He had added me as a friend on myspace, about a year or two ago, and would comment my page from time to time. I had always thought that it was a fan page or whatever. It had never occurred to me that it might actually be the real Joe Dallesandro, one of the biggest male sex symbols of the 20th century. We had been exchanging messages for the previous few months and I had asked him if he wanted to guest DJ at PORK, while he was in town. I told him he could play sleazy 60's and 70's rock, or whatever he wanted. When he didn't respond, I figured he wasn't interested. Then I found out he was set to host a night at Berlin Hiltrons, a Wednesday night party in Berlin, that's usually pretty fun and packed with hot boys and girls. I knew that Gus was really interested in the early Warhol, factory scene, having even written a script about it, in which he wanted his good friend River Phoenix to play a young Warhol. So, I texted Gus to see if he wanted to come to the party with me. He texted me back and said he was in a press junket all that day, but might want to come out later on, if he wasn't too tired, I guess he was flying back to Portland early the next day. When I heard from him later on that night, he said that he was indeed too tired to go out and that he was heading back to his hotel. I was actually really tired myself but I would have been able to wake myself up to hang out with Gus, whom I hadn't seen since the film shooting for Milk in San Francisco a year ago. I was a bit disappointed that Gus bailed on me, but I didn't lose any damn sleep over it, I'll say that much. I mean it's really his damn loss, there is really only so much of me to go around! I mean, shit. I passed the fuck out and the next day, I spoke to Travis and he said he didn't think Joe Dallesandro even showed up. I found out later from Joe that he missed the party due to his flight being delayed or some shit. So anyway, the Berlin film festival was a bit uneventful for me this year. I did go to one party with Trish, that was a total bore. we got separated and i met some dude, who I let try on my Dior sunglasses, and then I damn gave them to him. What can I say? I'm a goddamn generous drunk. I gotta say, I was fucking pissed about it the next day though. Then I met some fierce lady gender bender, who I was having a fierce kiki with, when Trish showed up, I started yelling at both the woman and Trish (not really sure why), telling them both to call me in about sixteen months. I was pissed at Trish for ditching me (even though she was merely doing her job photographing the party), and I guess I was taking it out on the fierce lady too. She looked some sort of mixture between baffled and amused, but Trish is used to my crazy antics and she kept right on snapping away. I got into a cab and left screaming at them out the window as we screeched away. Trish told me the next day that the woman who I was talking to when he found me was the legendary transexual, performer/party promoter, Romy Haag. She's kinda fierce too, I googled her. Homegirl was David Bowie's lover and the reason why he moved to Berlin in the 70's. She also apparently had an affair with Mick Jagger as well. Oh and I should also mention that girlfriend ran away from home and joined the circus at the age of thirteen. So fucking cunty. Need I say more?
Kenneth Bager - Fragment Seven (Les Fleurs) (MP3)
Janet Jackson - Escapade (don't judge, bitches! ya'll know this single is the hotness! (MP3)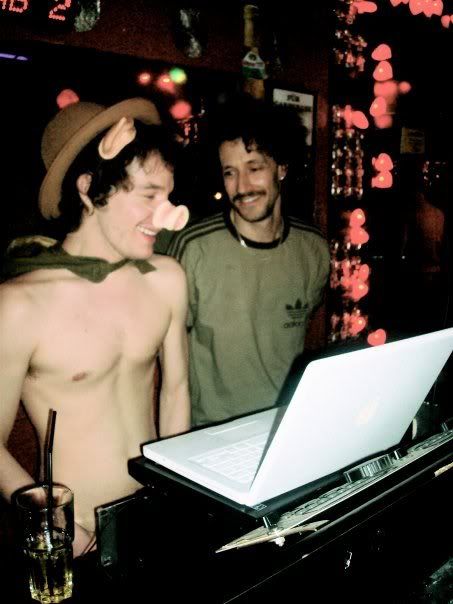 Tennessee & Snax @ PORK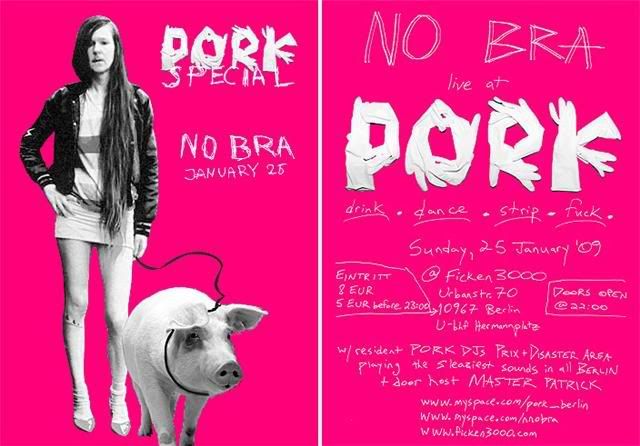 PORK FLYER
Anna, Tennessee, Nathan & Frank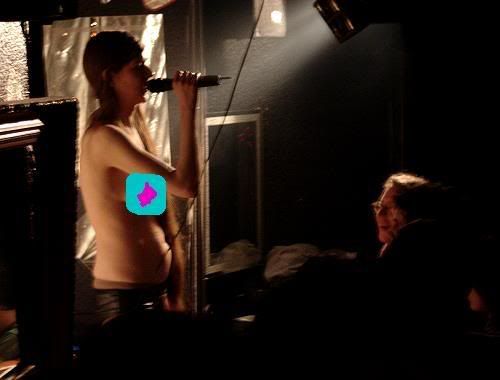 Trish Is Obsessed With The Concept Of Censorship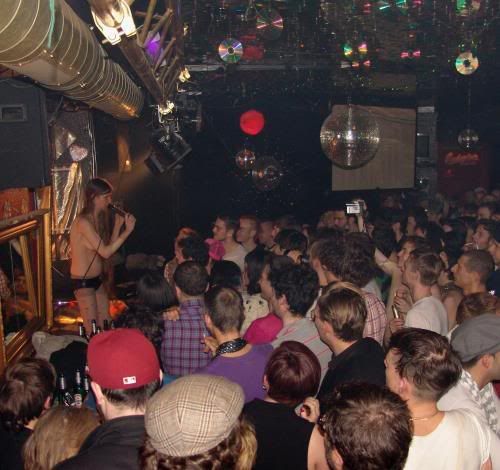 No Bra: Live @ PORK
Stefan, Nikolaj, Anna, Tennessee, Mario, Frank & Nathan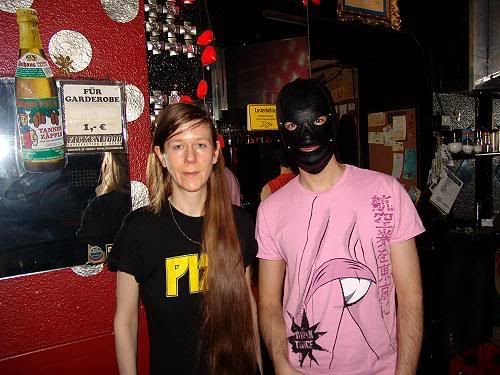 Susanne & Trish
Thanks Andy!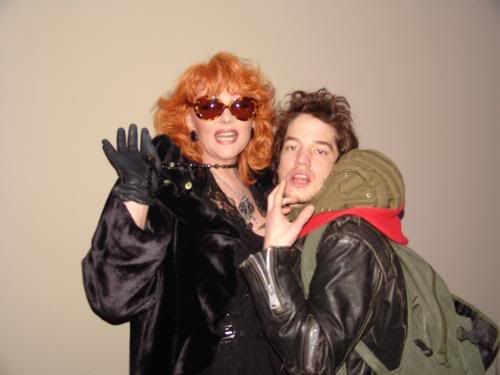 Romy Haag & Tennessee Claflin (aka drunk mess)
Also around that same time, my best friend in Berlin, Travis Jeppesen, told me that he wanted me to audition for one of the lead parts in the new play he is writing for the CHEAP Collective, set to open this summer in Berlin. The title of the play is "Daddy" and I would be playing the part of Denny - age eleven. Hahaha, I know, I know, it's a bit of a stretch, but Travis said they can't cast an actual 11 year old because of a certain law or some shit. I guess there is fucking onstage and other such glamourousness. My mother is played by Susanne Sachße of Raspberry Reich and Otto, or up with dead people, fame. My school Teacher is played by the fabulous Vaginal Davis. Legendary performance artist and main reason why I'm interested in the part, Ron Athey will be directing the piece. Actually, it would really be a thrill and an honor to work with all aforementioned artists. But I must say, I'm quite enamored with the mystique of Mr. Athey's craft, even though we have only met just a couple of times and I have yet to see him perform live and in the flesh. On the day of the audition Travis printed out a scene for me to look over and I headed over to Art Bar a few hours later, where I met up with Travis, Susanne, and Ron. I'm not exactly sure how I did. I am by no means a trained actor, so it was a bit intimidating doing a scene with Susanne Sachße. She is very intense, and a tough act to follow. But she is also very sweet and she promised that she would come to my upcoming performance at the HAU festival. I still don't know if I got the part or not. I would love to be involved, but at the same time learning all the lines for such a big role in a play is a lot of work and I would have to be very focussed, which means not so much partying. It might actually be good for me. It's like a job, It's the real deal. We'll see what happens. The next week at PORK we had a surprise guest from artist Gio Black Peter, an old New York acquaintance of mine. I knew that he was coming, because my good friend Michael Rade, the brains behind STYX project space, was giving Gio his fist solo exhibition, which was to open later that week. Now I have known Gio since at least 1999, when he used to be the little painter boy for New York's premiere 18 and older N.A.M.B.L.A. bash, Kurfew @ Tunnel. Honestly, who can erase that creepy promoter, Jeff from their memories? Certainly not me! I was eighteen and very new to New York, while Gio was nineteen or twenty, and seemed relatively established, in the downtown scene. I won't say we were ever best buddies or anything, but we had a few mutual friends and often ended up at the same parties. Then one night at Beige, Miss Gia decided that she would stop by our table during dinner and call me out, in front of everyone, for being a hustler! At the time, I was trying to keep that shit on the DL. I can laugh about it now, but at the time I was not feeling her, especially since, rumor was, she was up to the same business. At any damn rate, bitch and I had it out at PORK that night and Gio apologised for his seven year old shadiness, and it's all water under the bridge now. He is actually a very sweet person and quite talented too, I might add. He gave us an impromptu performance that night, and we booked him for a DJ set the next week. His opening later that week was a lot of fun too, Travis Jeppesen, Mario Dzurila, Snax, Michael Rade, Thomas Gotz von Aust, Susanne Sachße, Christophe Chemin, Jey Crisfar, Pietro Spirito, Luigi & Luca, Cornelia Renz and her amazing daughter Anna Renz were all there. A lovely time was had by all. My performance at the HAU festival; 100° Berlin was the next night, so the next day, I was frantically running around Berlin trying to prepare for everything. I still had not located the day-glo pink, liquid latex, that I needed for my performance piece. So instead I had to settle for clear liquid latex, and instead of using black subway marker on top of pink for the graffiti I would instead have to have day-glo pink paint painted with a brush, which wasn't exactly the effect I wanted but It ended up working out fine. I enlisted the help of my friend and roommate, Pietro Spirito and my fabulous, friend/wife, Anna Renz (yes we had our very own drunken 9 am ceremony at the Rotes Rose Bar after a serious bender one night after PORK) Anna was at the Hebbel theatre waiting for us, while I was frantically shaving off all my body hair. I had to scream for Pietro, who was in his room painting, to come and help me shave. We really should have filmed that shit and tacked it onto the back of the performance video, because it was so insanely hilarious, me sitting in the tub naked, with a razor, Pietro doing one leg and me the other. After we removed all of my body hair, we headed off for the Hebbel theater, where Anna was patiently waiting for us. We went up to my dressing room and got right to work. we had a couple of hours before I was scheduled to go on stage, so I stripped down to my underwear and both Pietro and Anna began painting the liquid latex all over my body. It was so cold at first but once it began to dry and they started doing more and more layers, it was fine. After it dried, they began painting the day-glo pink graffiti, all over my body, on top of the latex. This performance was dedicated to my late boyfriend Stephen, so I would just recite words or phrases that had special meaning to us, whether it was the name of a place, or city we visited together, an inside joke we shared, or a nickname. Basically anything that I could think of that brought back memories of Stephen. After the paint dried, I was already about ten minutes late and so I had Pietro take my camera into the audience, to film it and I went backstage. I was a little nervous, but I had drank a couple beers, in order to relax, while we were preparing. There were a lot more people in the audience than my last performance. There were probably 100-150 people there, as opposed to only about 40 at my last performance. The theater was completely darkened except for a big circle of black lights on the stage and a television set at the front of the stage showing only static. There were huge loud speakers on both sides of the stage, booming a remix of an old Pointer Sisters song, from the 70's called, "Send Him Back" a rock song probably would have been more fitting for a Sprouse tribute, but for some reason, this particular song spoke to me and so I decided to use it. When the music started, I walked onto stage and began my performance. It was all very spontaneous and not choreographed. Instead, I just allowed all of the emotions that I was feeling relative to Stephen, to work themselves out of me through movement and dance. To me, it was the static that represented Stephen and the graffiti represented to me, all of the memories I had been clinging to for so long. In the end, I shed my self of all of it, in the same way that a snake sheds its old skin, leaving it behind and starting again fresh and new. Sometimes this is not easy to do. Letting go of the past and looking toward the future, is often times a very painful, frustrating, violent, even angering action to take. It's enough even, to make you lose your mind for a time. But change is universal and at the end of the day, we must all learn to embrace it, regardless of how painful it can be. My performance served as a metaphor for this sort of rebirth, this shedding of skin, this natural occurring cycle of change, and has helped me to set this to course in my own life. For those of you interested in seeing my performance. I have included the video below.
Blonde Redhead - In Particular (Baron von Luxxury Edit)(MP3)
Lykke Li - I'm Good, I'm Gone (Fred Falke Remix)(MP3)
The Verve - See You In The Next One (Have A Good Time)(MP3)
Tennessee Claflin - Send Him Back
Purple Penetration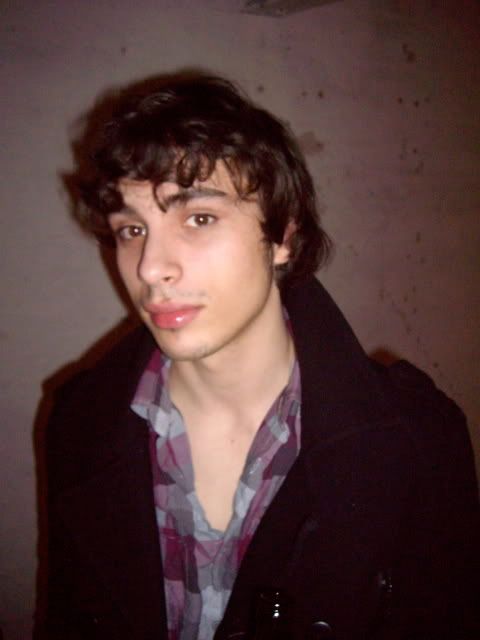 STYX Sexiness
Lights, Camera, Action.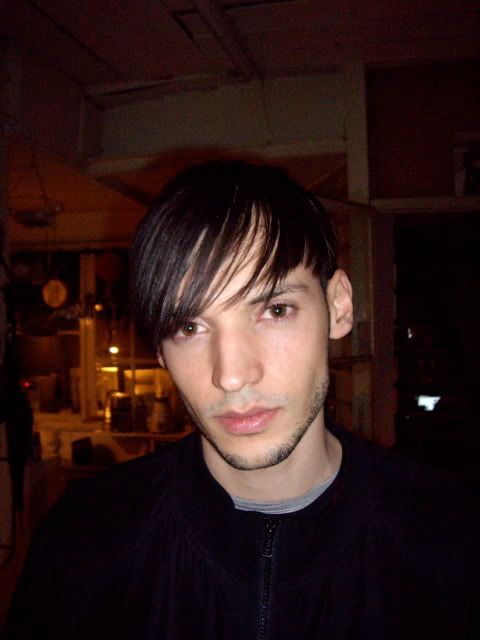 Luigi Takes Pictures
Beard Of Tears
Meet Romello
Two Of The Biggest Sluts On The Planet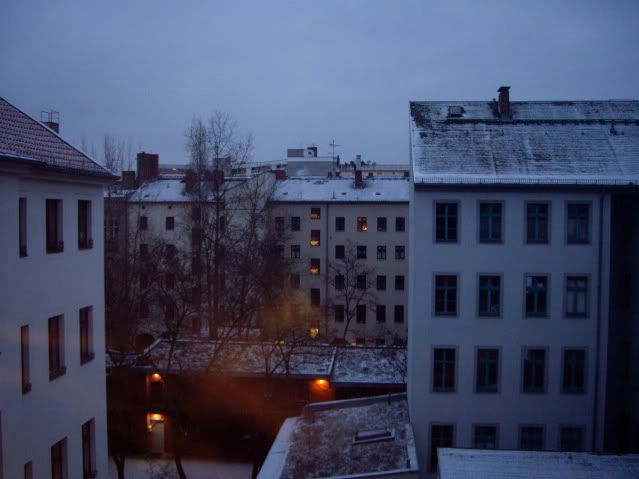 Bleak Winter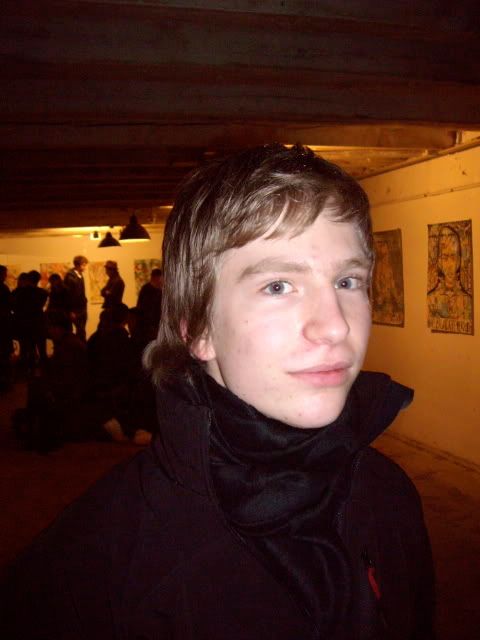 Sweet Sixteen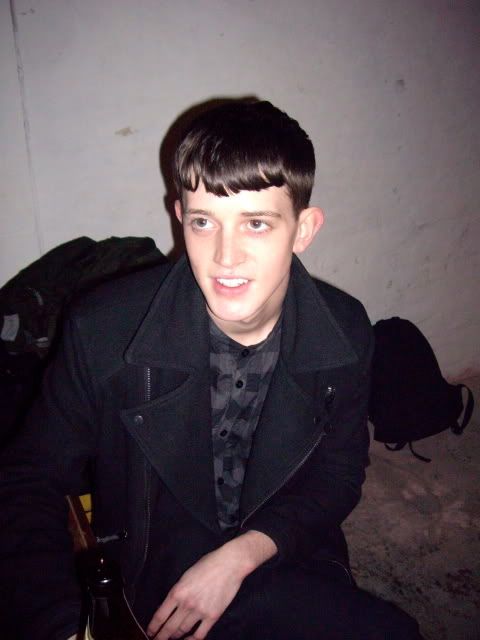 Scottish Neil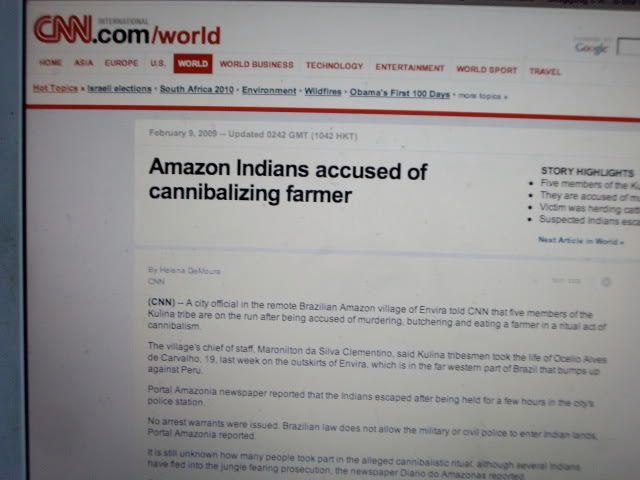 The Wild West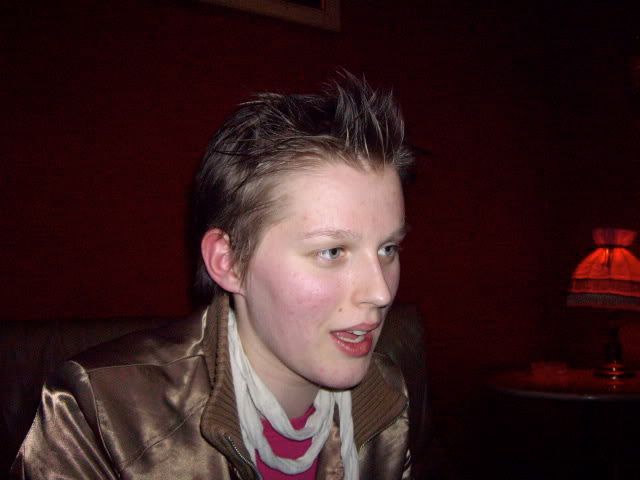 Gold Finn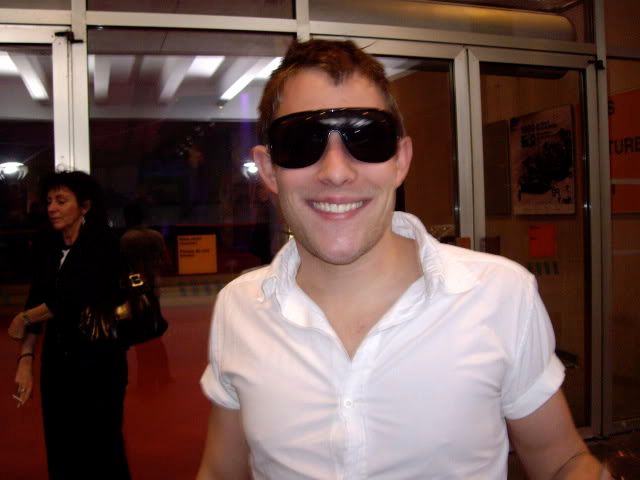 Bitch, I want My Glasses Back!
F R U I T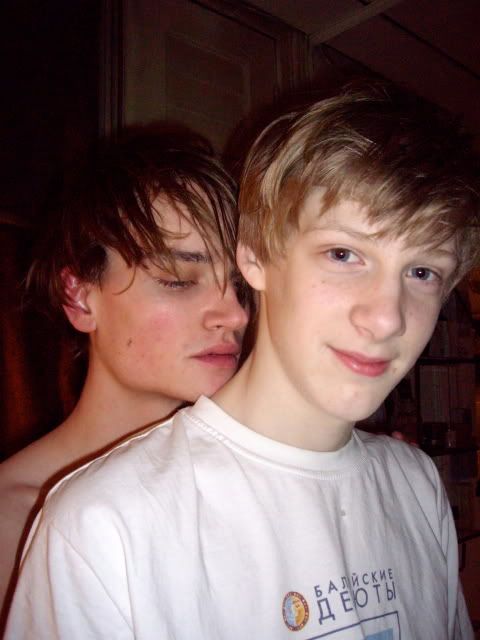 Youthful Lust
My Body Guard (Don't Fuck With Me, Bitches)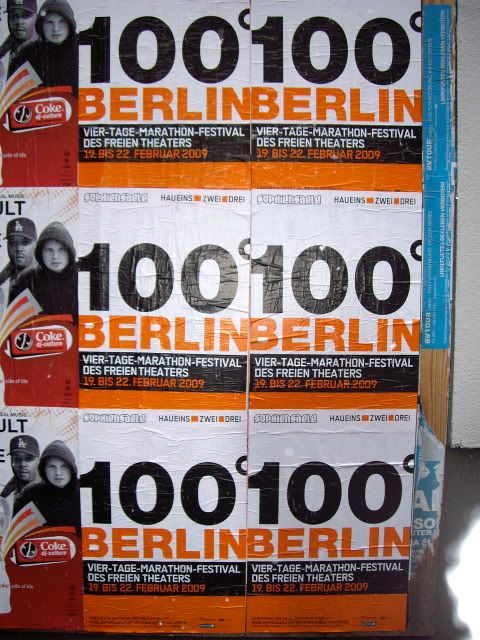 Performance Venue
Tennessee Claflin Performance Prep
Beautiful Boy